I thought I'd talk a bit today about how I spot new season trends. Now, I never suggest that you should follow every trend – and I certainly don't. I do, however, draw inspiration from new season trends and base any new season buying on that inspiration.
Wearing something in my outfit that is inspired by the new season trends makes my outfit feel fresh – and 'with it' – even if I'm feeling less than (thanks, non-sleeping kids!). An easy way to incorporate a new season trend into your outfit is with a pair or shoes or accessories. I'm focussing on shoes today, as it's just about the time of year when I start looking forward to spring/summer and deciding what I'm going to be wearing on my feet in the warmer months.
But, before I do that, I thought I'd talk a bit more about where I get my trend inspiration from.
So, how do we know what will be in, what will be 'on trend' in any coming season? Well, I'm certainly no fortune teller and I don't get invited to the big designer shows (something about running a bargain-based blog that kind of crosses me off the list there!), so here's the few little ways I have for picking up on what is going to be in fashion in the coming season.
How to spot a new season trend:
1 Peruse the shops
Window shopping is probably my favourite pastime – I know, I'm a tragic. A shopaholic from way back, I keep my eye on my local shops and spend a bit of time getting to know what's in store. And, best of all you don't even have to leave the comforts of your own home anymore – I peruse the new arrivals on my fave web-retailers regularly (multi-brand stores are best, for example The Iconic).
2 Scroll through Pinterest
If I ever need inspiration for how to style an item of clothing, my first stop is usually Pinterest. But, Pinterest can be used to forecast trends, too. I usually keep a few boards for style inspiration and repin images from fashion weeks or street style. A simple search 'fashion week 2017' will bring up gorgeous street style photos and runway pics that will provide loads of inspo.
3 Follow style blogs
Uh, hi! Hello there. I'm a blog-follower from way back, and if you've been following along here for a while then (firstly, thank you!) you will know what I'm talking about.
A lot of my fave bloggers are the first to see new trends – they often get sent the promotional material for next season's ranges before they hit the stores or online.
One of my favourites is Styling You (and be sure to check out Styling You's #everydaystyle hashtag on Instagram for all of the lovely, inspirational ladies who post outfit photo every day), and some of my other style blogging favourites include Styled By Bec, IrisMayStyle, StyleLoving2, More Than Adored, Style and Shenanigans, Styling Curvy, Suger Coat It, Never Ever Pay Retail  , I Love That Skirt, A Pair and A Spare, A Broke Girls Blog, The Mummy and the Minx and plenty, plenty more. And then of course, you have the magazines which have gone online relatively successfully – I like Marie Claire's Styled By Marie Claire, InStyle and Vogue (these links take you to the latest trend pages).
From all of that inspo, it is sometimes easy to get a bit overwhelmed, however I find it helps to keep a moodboard of what takes my fancy by simply screen-shotting the looks or styles that catch my eye. Pinterest, or one of the other free programs or apps such as Polyvore can be used to collect your new season style faves, or simply create a folder on your phone. You'll often notice from collecting styles you like, there will be a few common threads coming through.
From all of my searches for new season shoe styles, I uncovered a few of my favourite trends for the next season.
Six of the biggest new season shoe trends for 2017:
1 Metallics
Metallics are big news this season, after the ultimate shine with silver and gold boots came through in autumn/winter. In addition to gold and silver, look for rose gold or copper tones in shoes – especially pumps, heels and flats this season.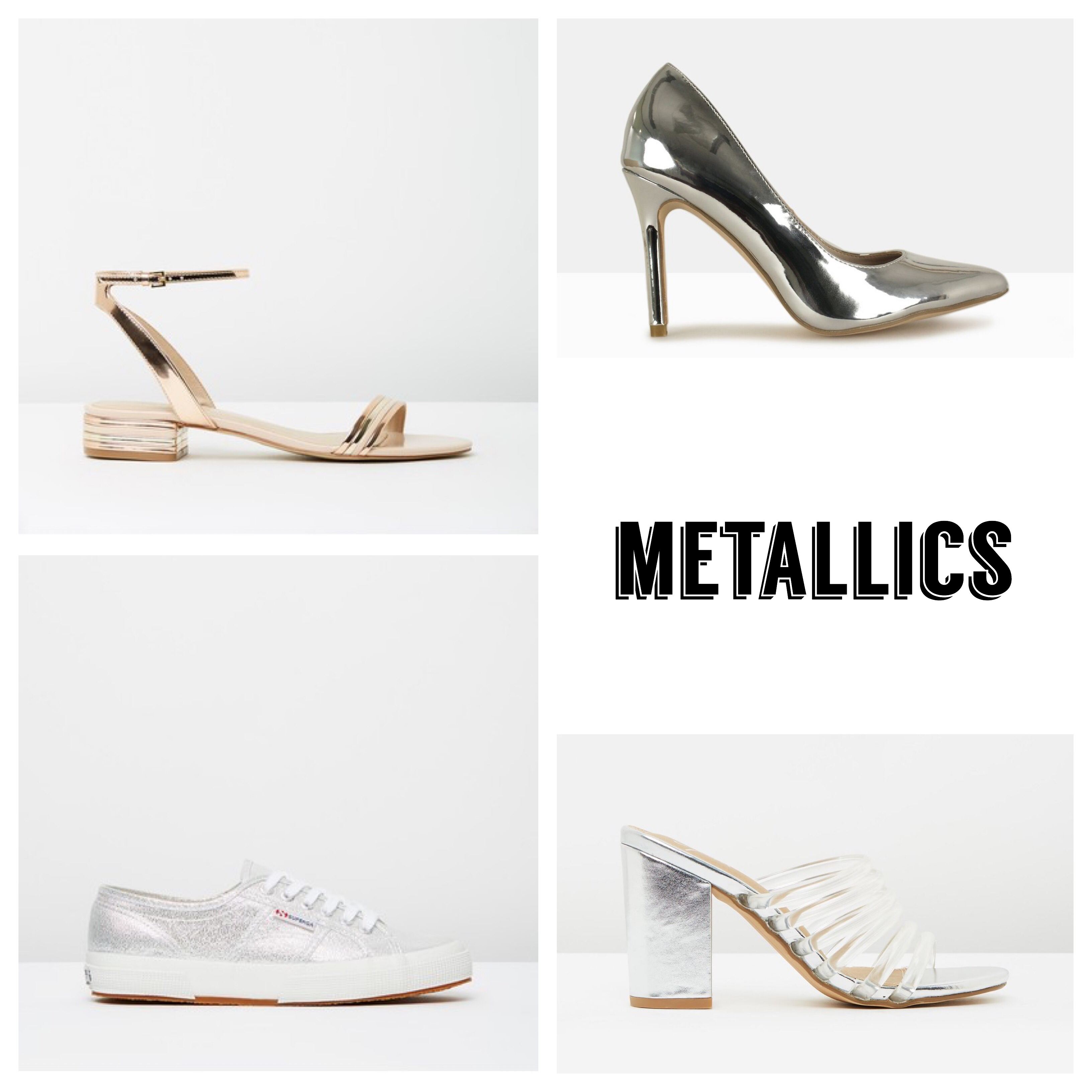 2 The updated flat
Flats are still very IN. (YASSSS!) The comfort factor is only matched by the style power these days – try cut out brogues, patent leather oxfords, slip on pointy loafers or the espadrille. And of course, sandals are always in during spring/summer, and both slip-on and tie up styles will be big. The simple tan sandal is always in fashion.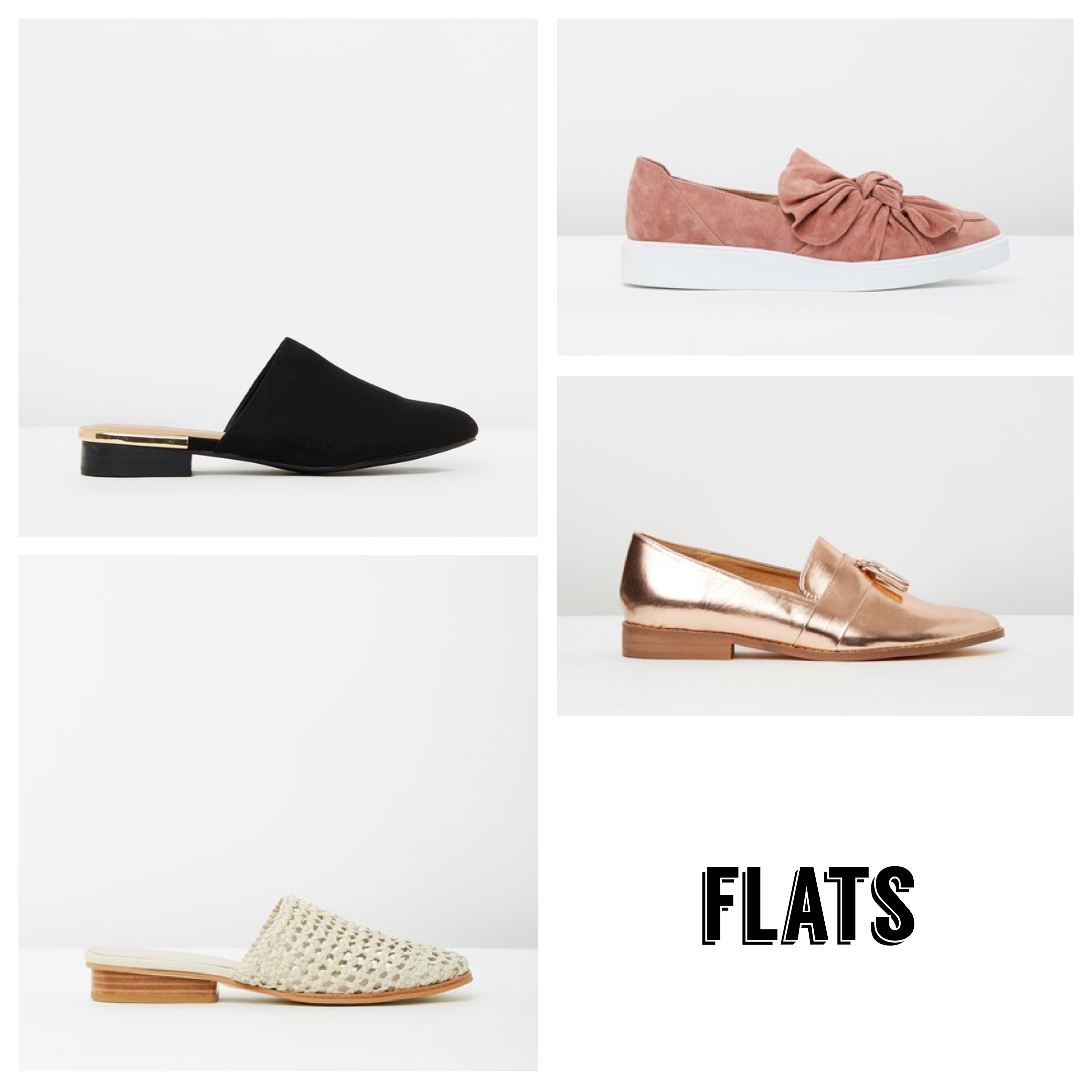 3 Sneaker freaks
I actually didn't think the white sneaker trend would last this long – but it has – and it is still powering on! This season we will also see more blush, pink and beige toned sneakers taking centre stage, along with embroidered, metallic, black and white, leather punched and patterned sneakers.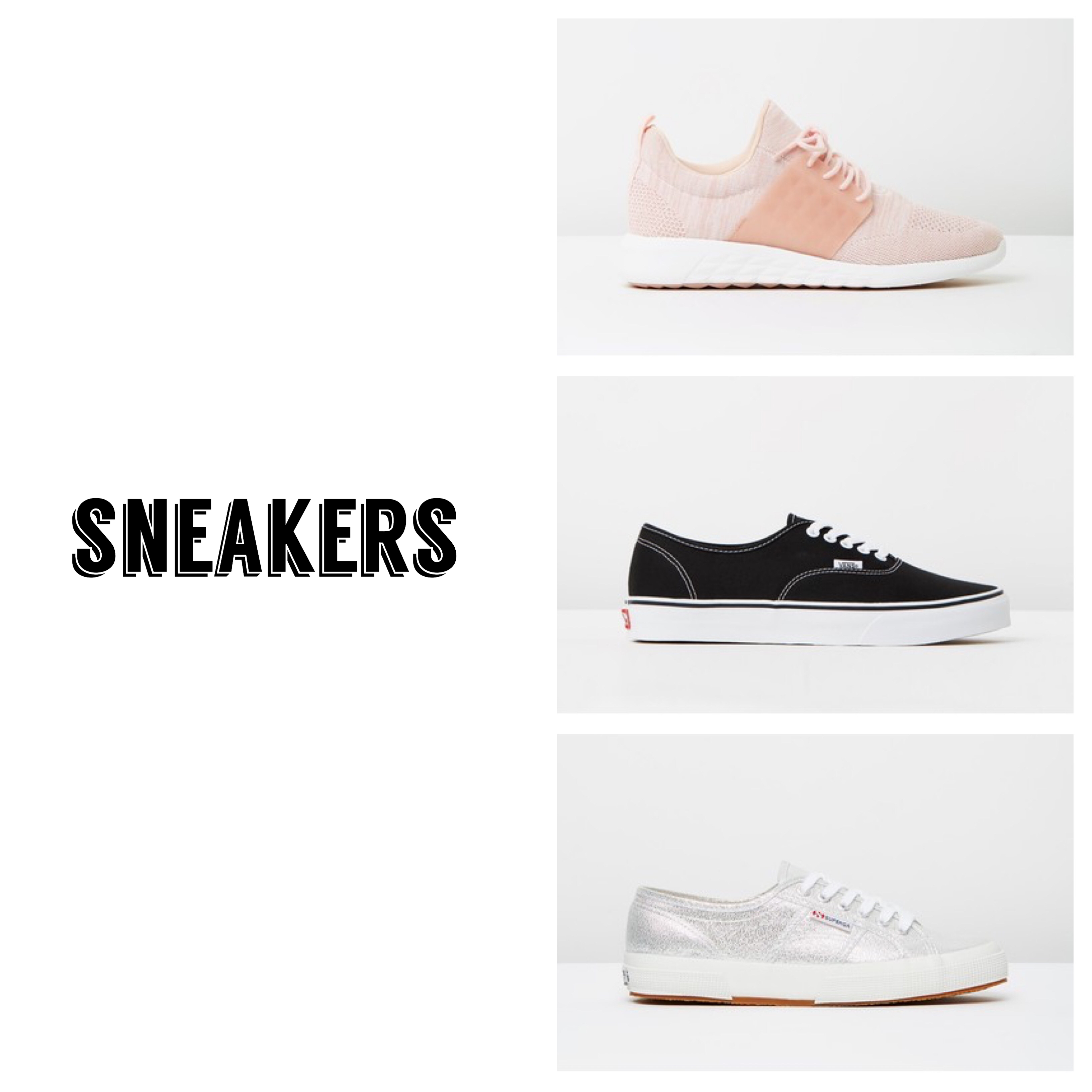 4 Red 
In clothing, shoes and accessories – red is going to be HUGE this coming season. Get ahead of this trend with a red pump or sandal in this hue. Bonus – a red shoe goes really well with denim and basics.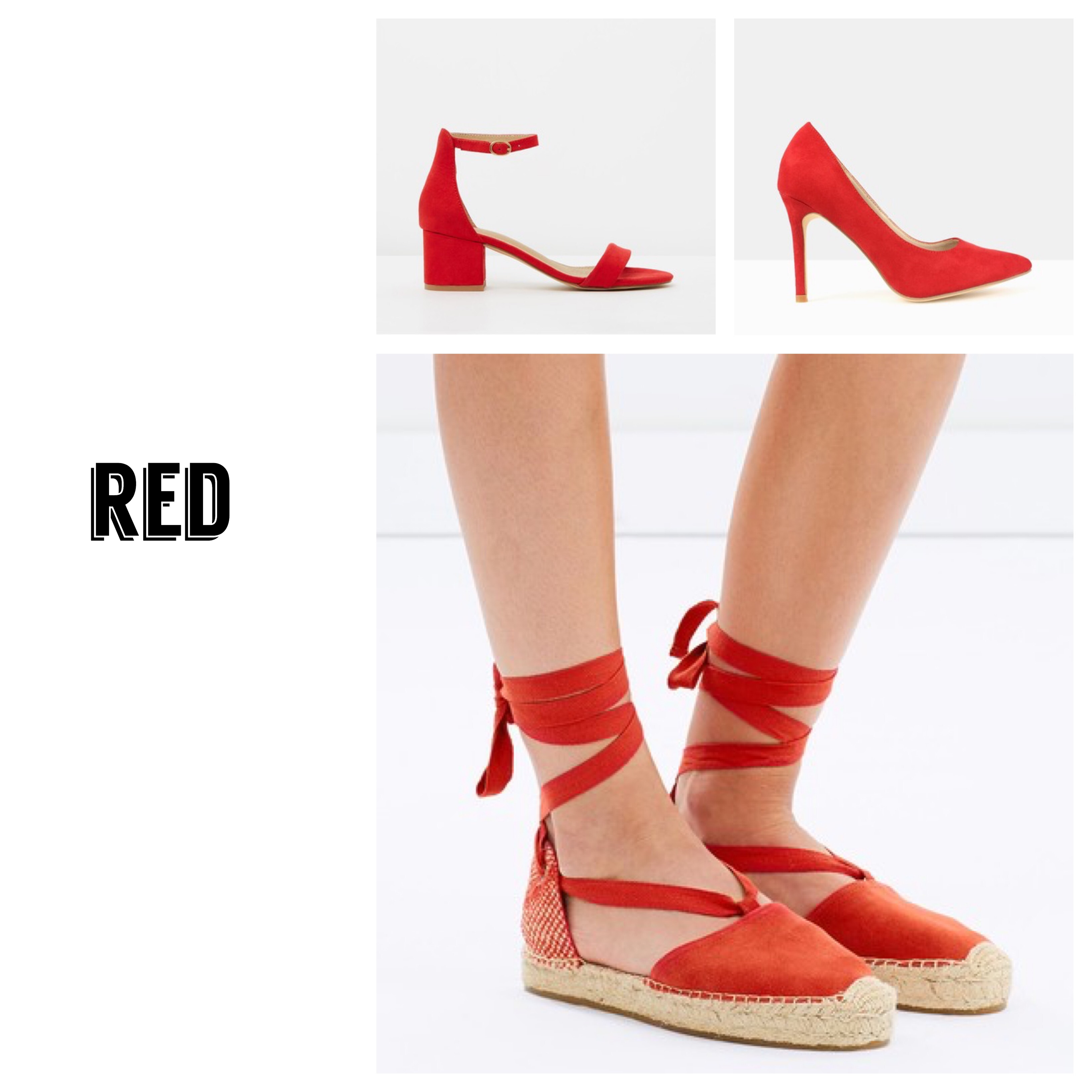 5 White
Gals, white is back. Remember those white pointed pumps you wore with your bootleg jeans and fave tee back in 2003? Yeah, those. Somehow, the look is fresh again and works well with denim or black. Slip on styles and mules are also on-trend ways to get the look.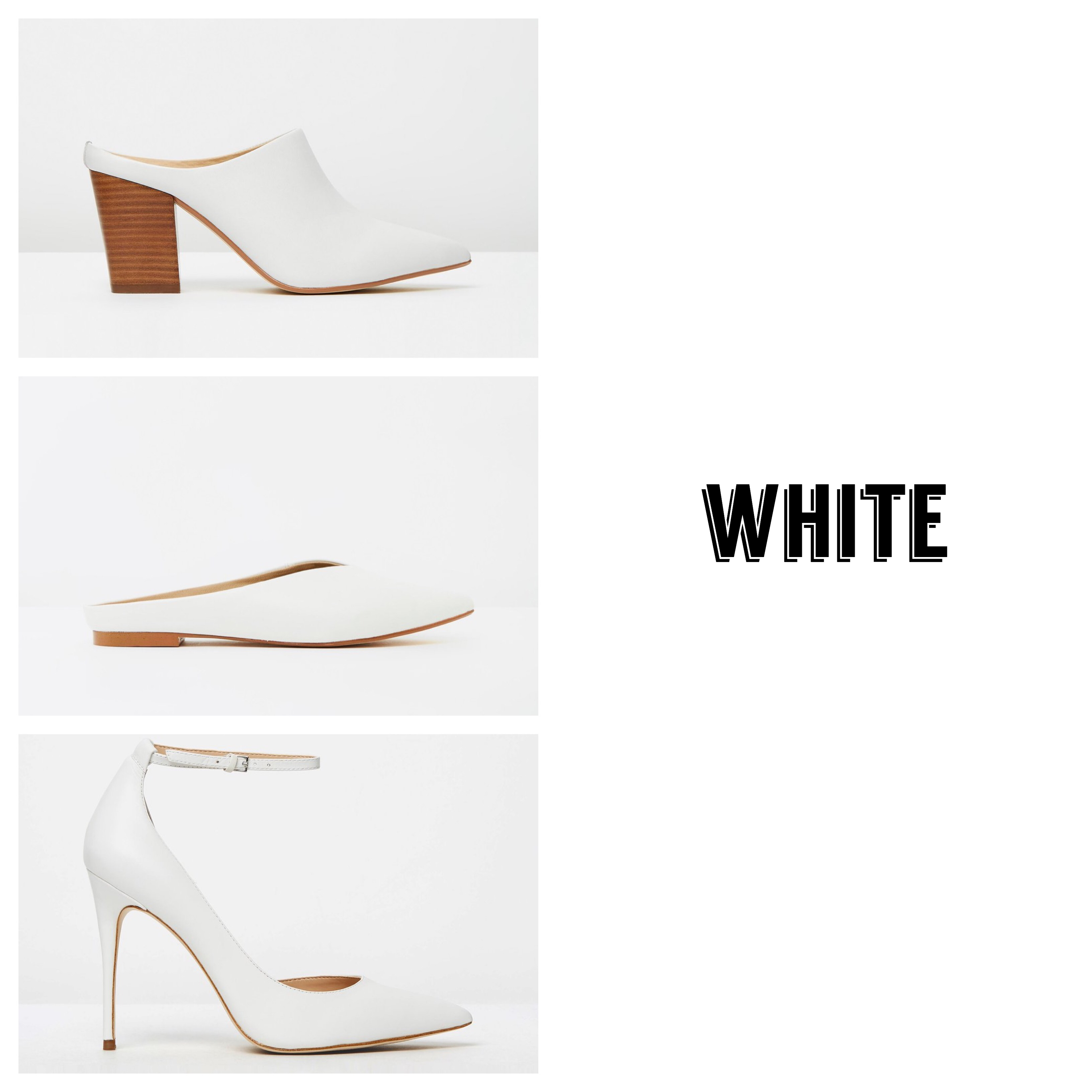 6 Detail
Love a bit of embroidery, tassels, glitter, pom poms? You're in luck because this season, anything goes. Velvet and satin heels are also going to be really big. Detail away!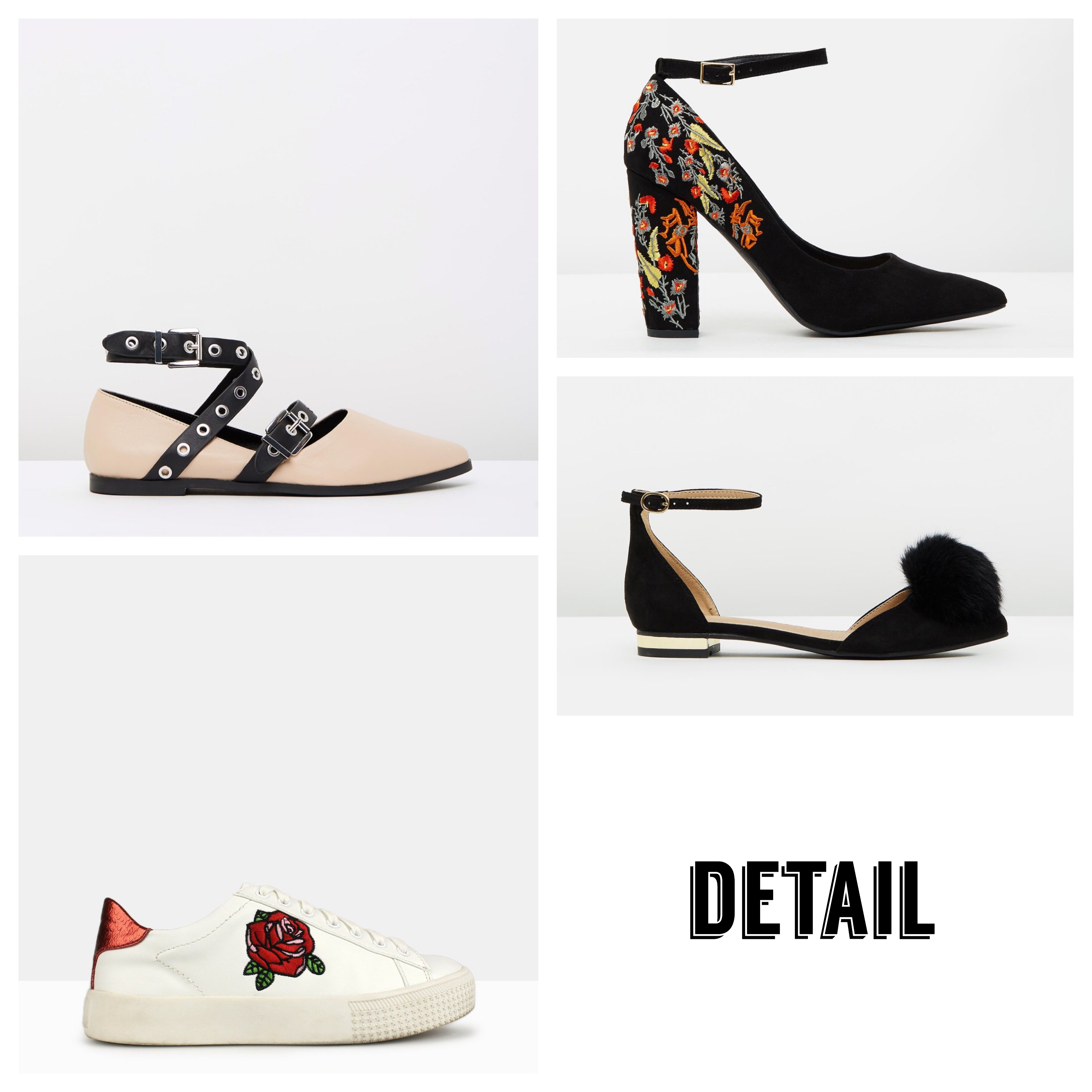 For more inspo on these shoe trends, check out my dedicated shoe trends Pinterest board here.
So, what do you think – are you excited for the new season shoes coming your way? Are you a fan of reading trends? Are there any trends you're looking forward to trying in footwear this season? 
This post was sponsored by Flarecom Digital Marketing.