Hello! My name is Jasmine.
I'm a bargain hunter, clothes lover, wife and mama; and professional window shopper*. *ok, this is not a real profession! yet…
Pretty Chuffed is the place I share the bargains I come across every day.  It's a blog that aims to share the fun, the fashionable and the affordable, because I firmly believe you don't need to spend a lot of money to look and feel great. I'll also share what I'm wearing most days in outfit posts, hopefully providing you with inspiration to get the most out of your wardrobe.  Finding the newest and best trends on a budget is my forte, however I'm also a big fan of thrifting and shopping your wardrobe, and the odd DIY too.
In 2013 my husband and I had our first daughter Hannah and being a mum has brought a new dimension to shopping and clothes – looking good on a budget is a necessity! Although I am a mum, I don't want to look mumsy or frumpy. Looking young, fun, yet dressing practically is the key. If you're in the same boat, listen in as I endeavour to bring the best non-mumsy yet still practical fashion finds too.
And if you're wondering – the name Pretty Chuffed came to me when I explaining some bargains to a friend. She said something like "Wow that's awesome" and I said "Yes I was pretty chuffed about it". I hope you enjoy Pretty Chuffed – it's certainly fun for me.
Jasmine xx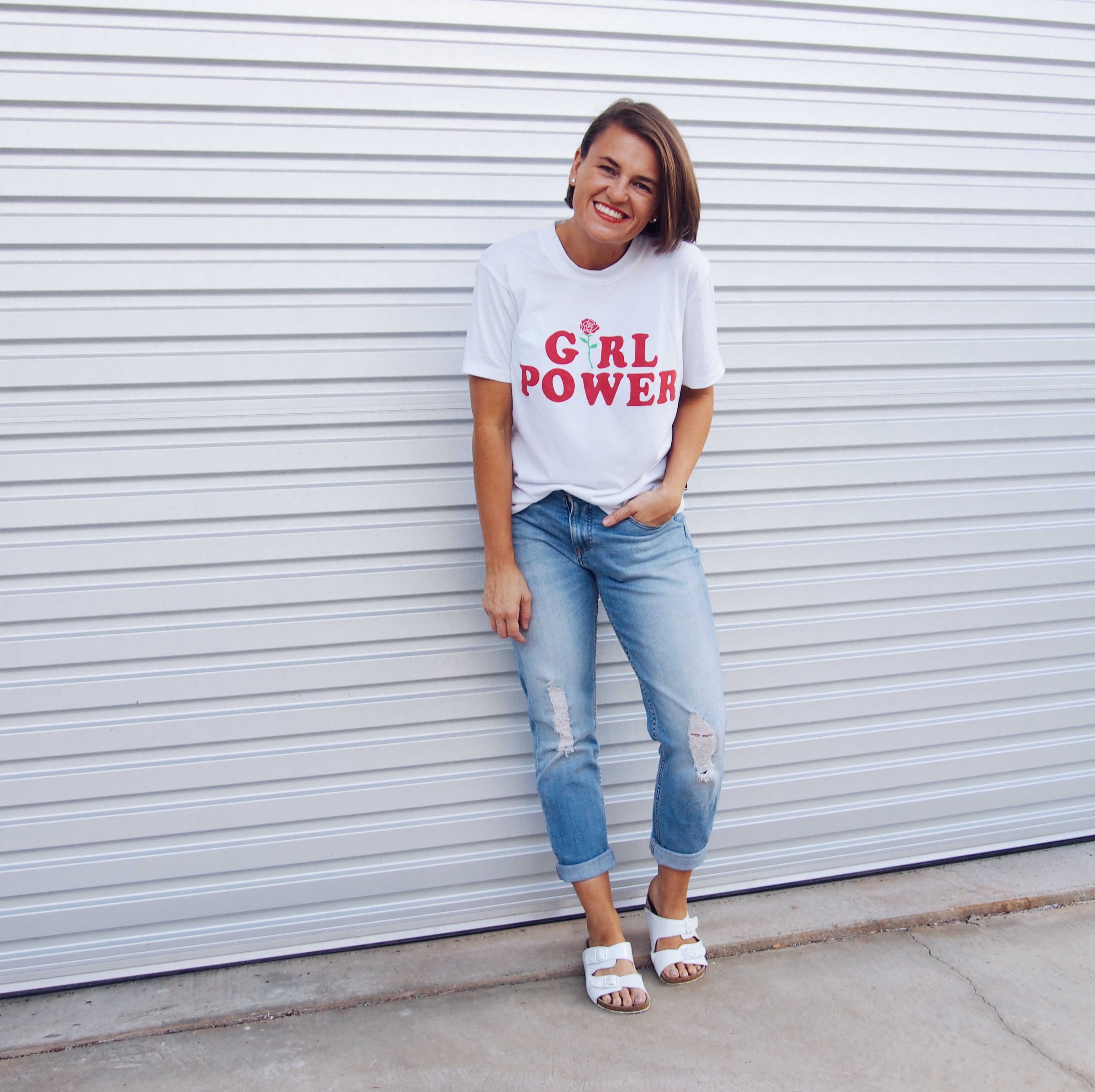 11 random facts about me:
1. I found it quite difficult to choose what I wanted to be 'when I grew up' and was deciding between studying science, fine arts and business. I ended up with a degree in Marketing and PR (Communications).
2. I am addicted to coffee and have to have at least two per day.
3. I met my husband at a bar two months before I turned 19, and we've barely been apart since. #lovers 🙂
4. I grew up in a small town on the Sunshine Coast. The closest clothing store was 30 minutes' drive and thus for my birthday every year I asked to "please go shopping".
5. Vietnamese and Thai are my favourite food styles, and I could happily eat dishes from these cuisines every single day. I need to have a good green curry chicken at least once a week.
6. I know most of the words to Salt n Pepa's Shoop and I Like Big Butts by Sir Mix A Lot.
7. I may or may not have performed both of the aforementioned songs at Karaoke bars. Gin was involved.
8. I was never a 'clucky' girl, however having children has been the best and hardest yet absolutely most rewarding thing I've ever done.
9. I love having a fringe, however in summer I curse the day I had it cut. I'm currently fringe-less, and still consider cutting it in daily.
10. My best ever bargains were a Burberry trench coat and a Camilla and Marc jacket, both thrifted.
11. I'm a bit of a dork and love dad jokes and memes. I do. I really do.
Disclaimer:
This blog is a personal blog written and edited by me. For questions about this blog, please contact Jasmine Hunt at prettychuffed@hotmail.com. This blog does accept cash advertising, sponsorship, and/or paid topic insertions. We will and do accept and keep free products, services, travel, event tickets, and other forms of compensation from companies and organisations. When this occurs it will be clearly identified as such. This blog abides by word of mouth marketing standards. We believe in honesty of relationship, opinion and identity. The compensation received may influence the advertising content, topics or posts made in this blog. That content, advertising space or post will be clearly identified as paid or sponsored content. The owner of this blog is sometimes compensated to provide opinion on products, services, websites and various other topics. Even though the owner(s) of this blog receives compensation for our posts or advertisements, we always give our honest opinions, findings, beliefs, or experiences on those topics or products, and all sponsored posts will be marked as such. The views and opinions expressed on this blog are purely the bloggers' own. Any product claim, statistic, quote or other representation about a product or service should be verified with the manufacturer, provider or party in question.