My love affair with ankle boots began as a teenager, when I begged my mum to buy me some Doc Martens to wear to school (I begged for MONTHS). One day, she finally gave in and purchased me a pair of my very own black lace up Docs. I loved my docs more than anything. I used to sit on my bed just holding and staring at them. I actually still have them – I'll never part with my Docs (giving away my age here but they were such a 90s staple!).
Then, later in life whilst working in the city, I rediscovered my love of ankle boots – they're the perfect winter work shoe, in my opinion. Wear them with black pants, dresses or skirts and you're warm, comfy and on trend.
My top tip for wearing ankle boots is to show some skin. Fold your jeans or wear a slightly cropped pair of pants so there is a slight bit of skin showing between the hem and the boots. I only break this rule when I'm wearing super skinny leather look pants – I then just run them into the boot (and I usually wear black boots).
If you're just starting to wear ankle boots, I think tan is an easier colour to start with, especially if you plan to wear them with dresses or skirts. If you're after some more tips, Nikki at Styling You has written a great post here with lost of styling ideas.
So, today I've rounded up 20 of my current fave new season ankle boots online, with all price points, styles and colours covered.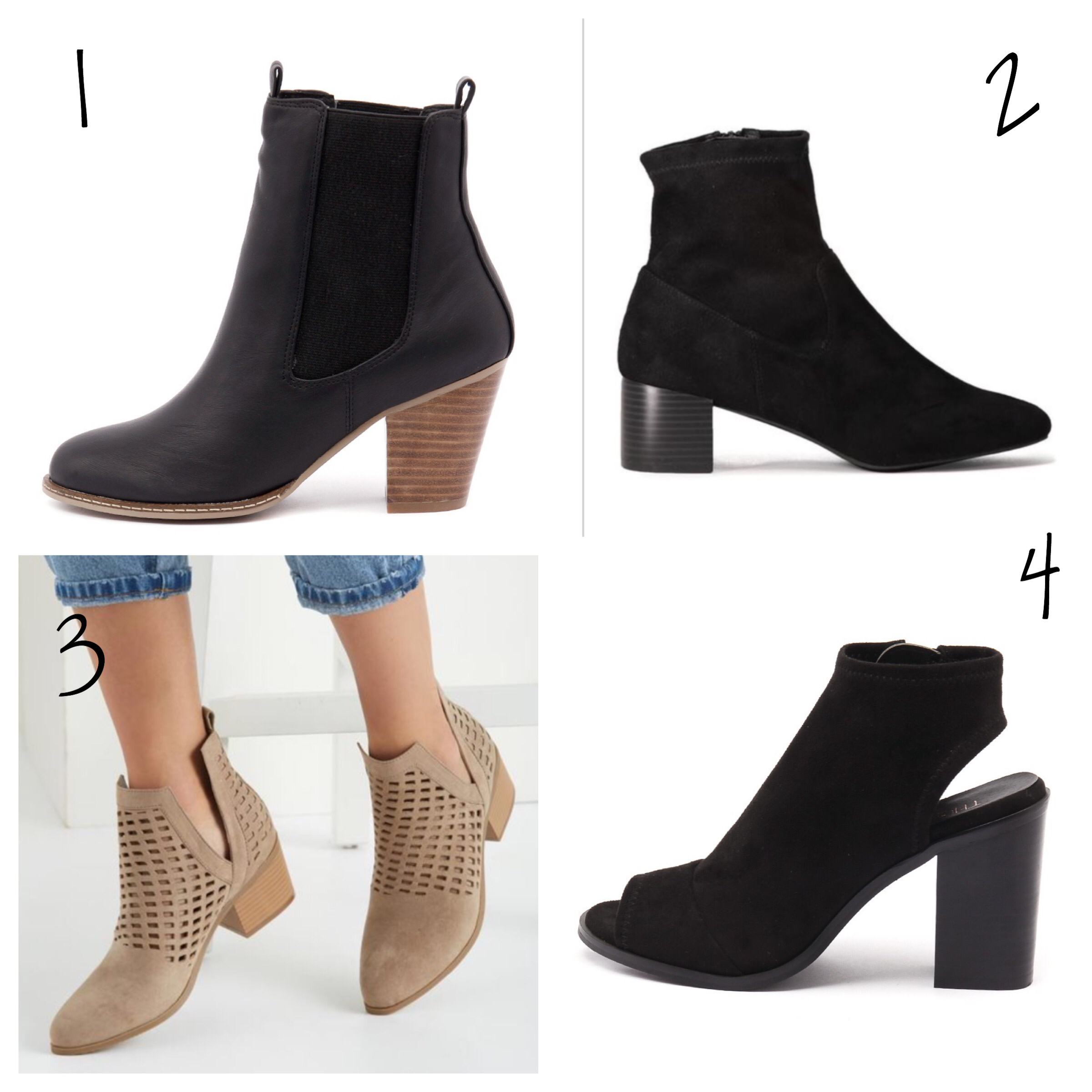 1. I Love Billy Cappy boots AUD$99.95
2. Rubi low heel sock boot AUD$49.95
3. Rubi laser cut boot AUD$49.95
4. Therapy open toe boots AUD$69.95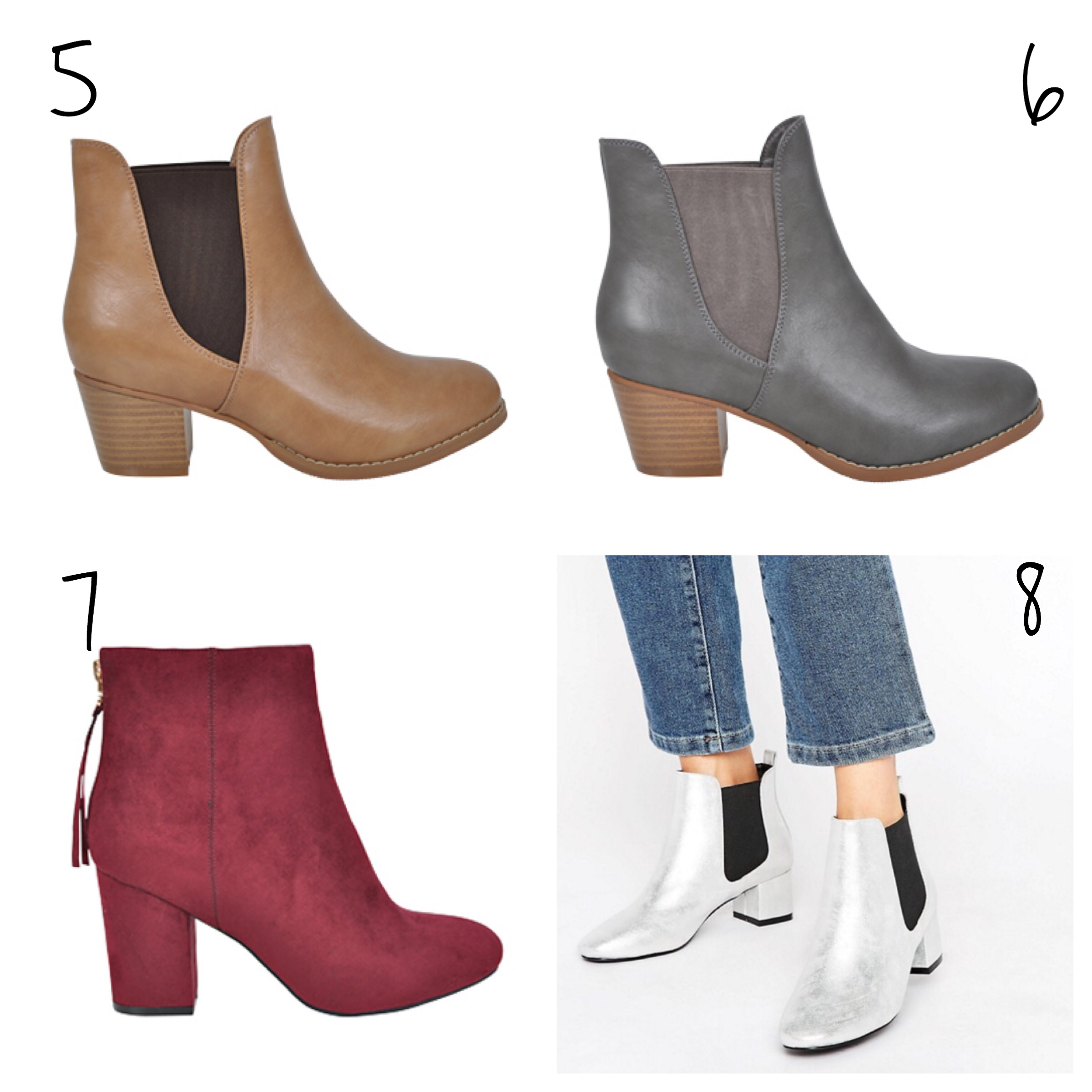 5. Spend-less Shoes Lenora boots AUD$49.99
6. Spend-less Shoes Lenora boots AUD$49.99
7. Spend-less Shoes maroon boots AUD$49.99
8. ASOS Raid silver boots AUD$38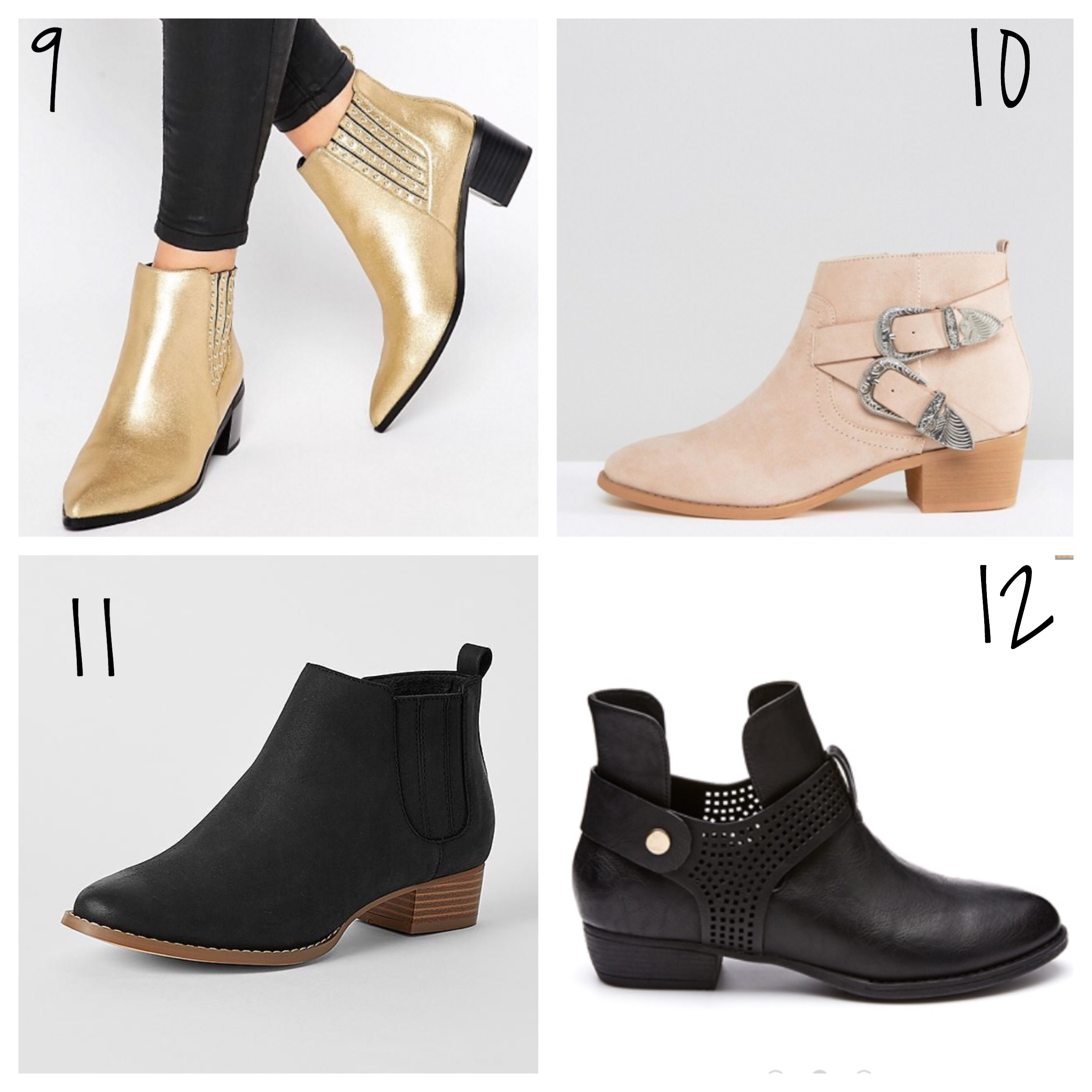 9. Office gold boots AUD$65.50
12. Novo ankle boots AUD$89.95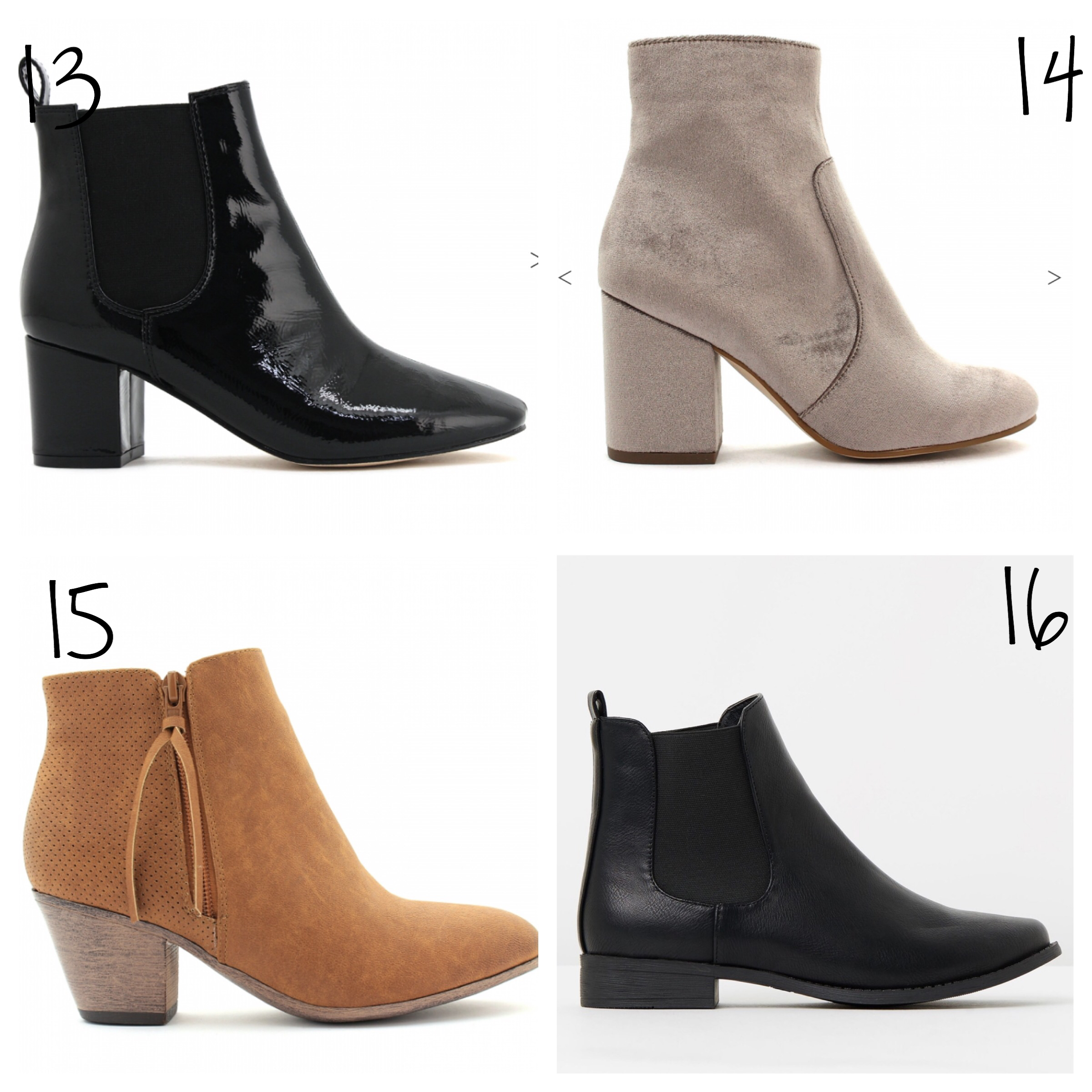 13. Betts ankle boots AUD$79.99
14. Betts velvet boots AUD$89.99
15. Betts tan ankle boots AUD$79.99
16. Spurr ankle boots AUD$34.97 (on sale)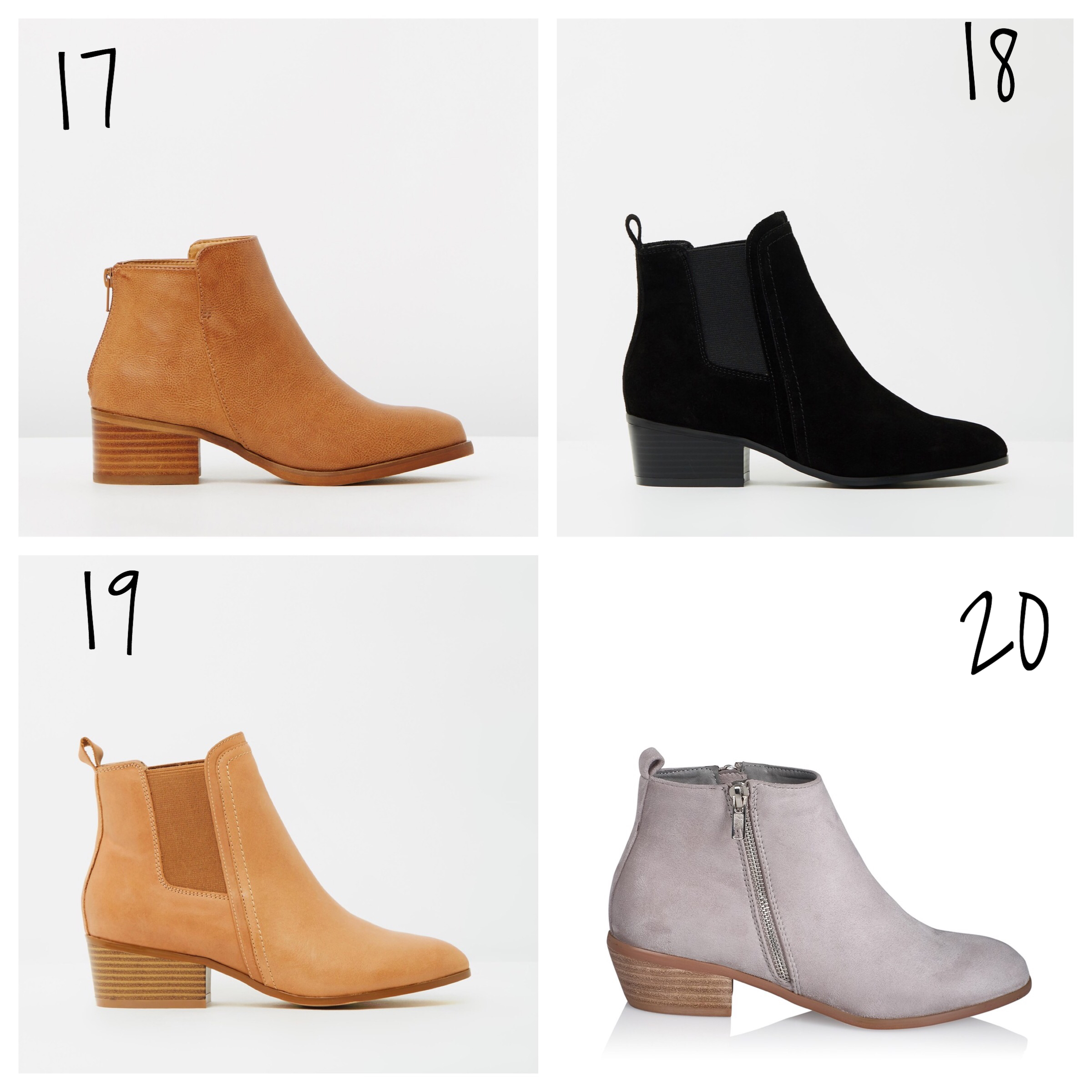 17. Spurr tan ankle boots AUD$48.97 (on sale)
18. Atmos&Here leather ankle boots AUD$90.97 (on sale)
19. Atmos&Here ankle boots in leather AUD$90.97 (on sale)
20. Billini grey ankle boots AUD$99.95
Bit more to spend? 
If you have a bit more to spend, and/or are looking to make an investment purchase, I can highly recommend these Frankie4 Footwear Salli boots. I wore these while modelling for the Styling You Shop (launching next week on 30 March!) and I had to take them home with me! They're designed by a podiatrist and physiotherapist and they're super comfy. These are the perfect ankle boot.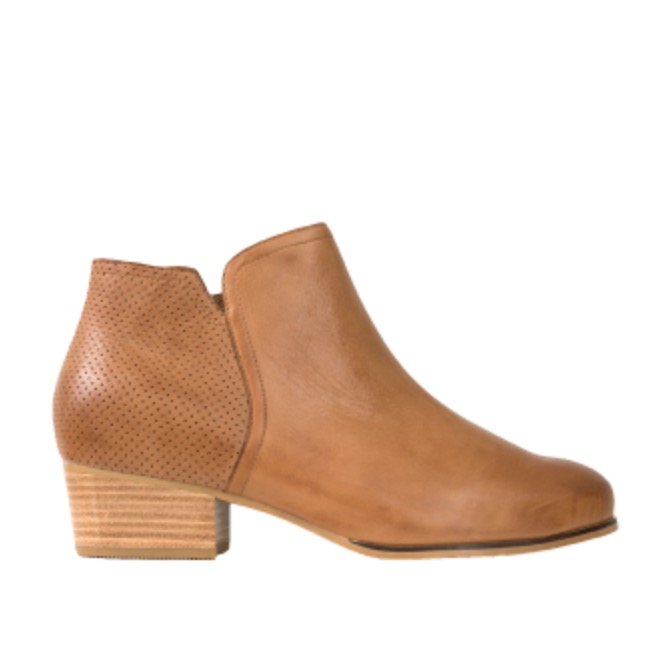 Frankie4 Footwear Salli boots AUD$289.95 (or 4 payments of $72.49 with Afterpay)
Do you wear ankle boots? Are any of these your faves? 
This post contains affiliate links which means if you click to buy I may earn a small commission however you do not pay any extra.