Since having Hannah, the easiest way for us to catch up with friends is often the brekky or coffee date. It's by far the best time of the day to avoid tantrums and because we're often up anyway it makes sense! Most of our friends without children are always busy Friday and Saturday nights, anyway, so it's much easier to find a time to catch up. And if it wasn't for coffee and then park dates during the week with other mums I'd probably go nuts! So, I thought I'd put together a few outfit ideas, three under $100 total (and one slightly over) for what to wear to breakfast or on a coffee date.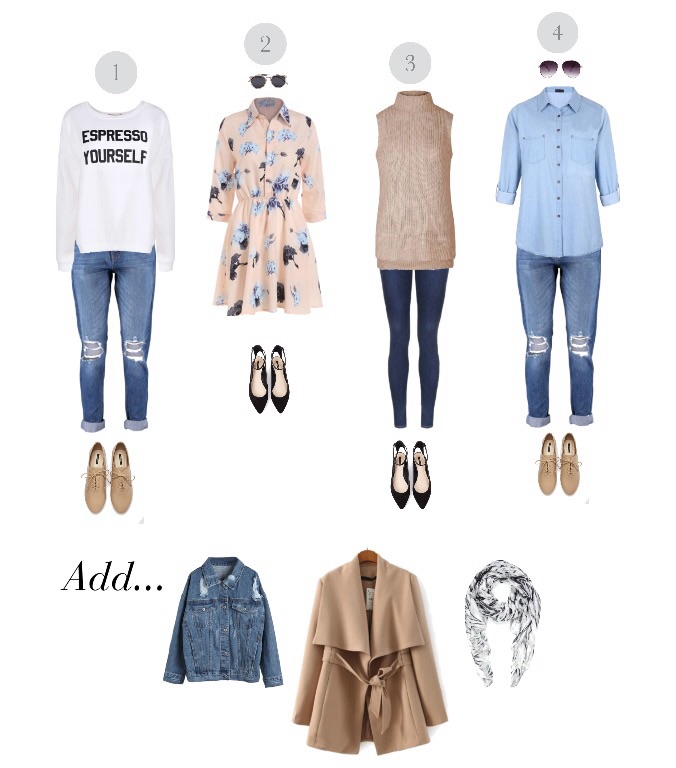 Outfit 1: approx AUD$94
Boohoo sweater (size L) AUD$20
Boohoo jeans (sizes 6-14) AUD$50
Forever 21 brogues US$17.90
Outfit 2: approx AUD$66
Romwe floral dress (sizes S-XL) AUD$17.60
Forever 21 flats US$27.90
Boohoo sunglasses AUD$12
Outfit 3: approx AUD$97
Ally turtleneck knit (sizes XS-L) AUD$30
Ally jeans AUD$30
Forever 21 flats US$27.90
Outfit 4: approx AUD$115
Ally shirt (sizes 6-16) AUD$30
Boohoo jeans (sizes 6-14) AUD$50
Forever 21 brogues US$17.90
Forever 21 sunglasses US$5.90
Extras:
Denim jacket: Choies AUD$49.68 (sizes M, L)
Caramel belted jacket: Romwe AUD$47.39 (sizes S, M, L)
Scarf: Autograph AUD$30
Do you love going out for breakfast? Are you a coffee addict (like me!)?