Casual outfits without a touch of blue denim in sight? It can be done!  I used to work in an office that had casual Fridays, however we were not allowed to wear denim or t-shirts. The CEO at the time was dead against it as apparently someone came to work dressed in ripped jeans and an old t-shirt this one time, so he decided that was enough. No more denim! No more t-shirts! So, because I LOVE casual Friday, I was not going to fall into the trap of wearing corporate gear for another day, no-sir! I soon discovered a love for long sleeve dresses, tights and boots. Such an easy outfit to wear, more casual than your usual work get-up yet still polished if you were called into a meeting. Today I've put together five really simple monochrome casual Friday outfits all under $100, top to toe. These are all quite simple basics, and you can add your own personal touches with a scarf, jewellery, an overcoat, vest or jacket.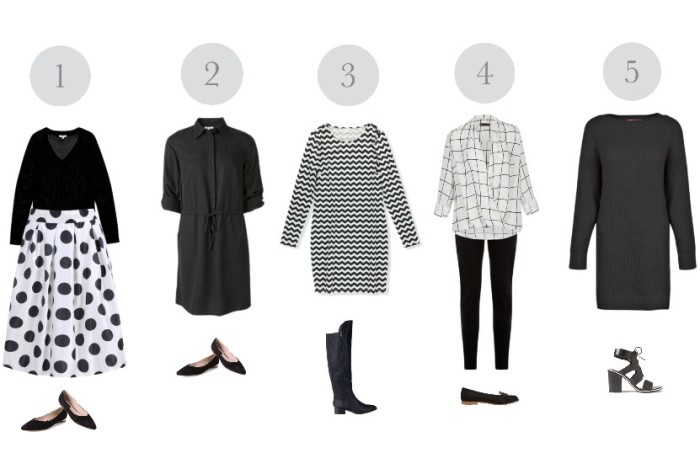 Outfit 1: approx AUD$72.60
Mix Apparel sweater (sizes XXS-XL) AUD$25
Romwe skirt (one size) AUD$17.60
Outfit 2: approx AUD$99
Target shirt dress (sizes 6-18) AUD$69
Outfit 3: AUD$58
Outfit 4: approx AUD$88
Ally cross drape top AUD$26Ally cross drape top AUD$26
New Look black jeans approx AUD$27
Oufit 5: $90
Boohoo knit dress (sizes S,M, L) AUD$40
Do you have casual Friday at your work? Or does your workplace have any crazy dress requirements?