I'm a last minute shopper. Totally. Although I do buy quite a bit online, I end up doing the last minute shop before the Christmas deadline ticks over. But not this year. I know, it's December already, and Christmas is like two weeks away, but for me that's early! This week I'm featuring a few 'last minute' Christmas gift guides with gifts for the special females, males and kiddies in your life. Coupled with some last minute shopping centre ideas and my Christmas Eve-panic home made gifts. So stay tuned!
To start with, I've found six of my top Christmas gift ideas under $60, perfect for your mum, grandma, aunty, bestie or sister. In fact, I would totally be happy with any of these gifts myself! Happy shopping!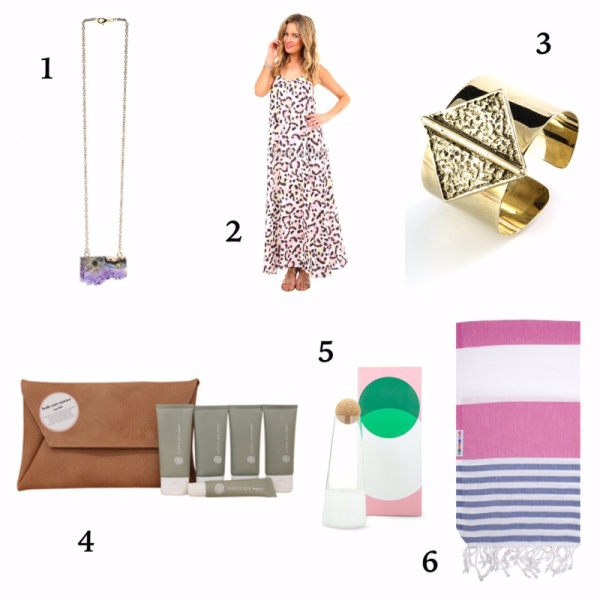 1: The Adorn Collective Nara necklace AUD$35
Gorgeous gift for your bestie or sister, this beautiful necklace will be so lovely paired with summer basics. And perfectly on trend, and a great price for this quality.
2: St Frock animal lover maxi dress AUD$59
All of the proceeds from the sale of this dress go to the animal welfare league, so not only is it a beautiful, on-trend animal print maxi dress, it's also a feel-good buy. And as an added bonus there's only two broad sizes to choose from – size S/M which would fit sizes 6-10 or M/L which fits 12-16 – which makes it much easier to guess you giftee's size.
3: From These Hands big lotus flower cuff AUD$55
The jewellery at From These Hands is made by artisans in Cambodia and each piece comes with a story about the person who made it, and what it was made from. A feel-good present that will be appreciated many times over. This piece is on trend but yet wouldn't look out of place in your mum's jewellery wardrobe. I love it.
4: Endota bodycare starter pack AUD$50
Perfect for someone who is about to go travelling as a travel pack, or just a little tester pack. If you've got more cash to spare, pair it with a gift voucher. Endota is all organic, natural skincare that smells AMAZING.
5: Country Road carafe AUD$34.95
These are so useful and beautiful. Perfect for a wide range of ages and interests.
6: Hammamas Turkish towel AUD$39
These are so cool. They can be worn as a sarong, used as a beach towel, a baby wrap or more. I've only just come across them and I LOVE. What a great idea!
Do any of these take your fancy? What's on your wish list this year?