Sponsored by Summer Land Camels
I'm a clothes lover and style experimenter from way back, but I've found as I get older, especially, I love trying out new skin care. Ageing, for me, has also meant drier skin, more lines and sometimes temperamental, oily skin. So, I love testing new ranges and seeing how they work for me. For the past few weeks, I've been trying a new skin care range which features one of the oldest beauty secret ingredients – camel milk. 
The brand is Summer Land's Artisan Collection skin care, and I've been trialling all of their products on myself and the family. And, spoiler alert – I love it. As Summer Land say, camel milk has amazing moisture absorption, cell regeneration and collagen production properties. Summer Land's collection is also uniquely Australian Made and owned. (Which for me is another PLUS!). It's also suitable for all skin types and the whole family as it's all natural and free from nasties.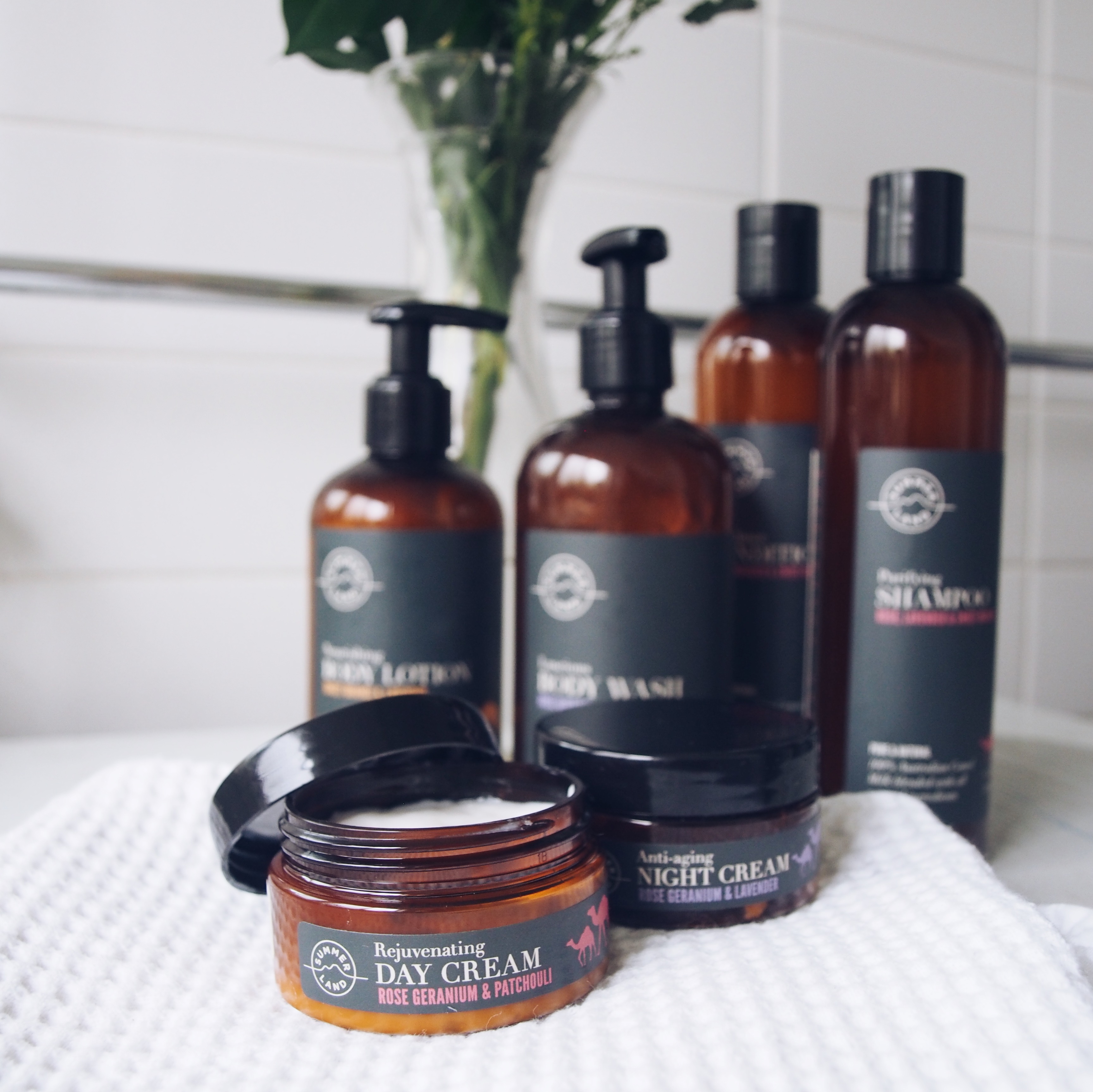 About Summer Land
Summer Land Camels has a farm in Harrisville, Queensland. I knew I had to try this range when I visited their website and saw that they focus on sustainable, ethical and organic farming principles. Have I ever mentioned that before I had this blog, I worked in the agriculture industry? I love reading about farming and diversifying. This stuff is kinda my jam!
Summer Land uses pure liquid camel milk that is not subjected to high temperatures or high-pressure chemical processes, formulated by nutritional immunotherapist, biochemist and Summer Land CEO, Jeff Flood. Camel milk has been used for centuries for skin and hair benefits.  Summer Land's Artisan Collection skin care sources milk from their own dairy to make into skin care. It's sustainable, ethical and chemical free.
The results of my trial
Before I speak about all of the Summer Land products, I have to mention one in particular – the soothing hand cream (with rose geranium and lavender AUD$27). I've had eczema on my hands for years and it has been really awful since Audrey was born. The Summer Land Artisan Hand Cream has been one of the best 'off the shelf' creams I've tried for it – it smells great, soaks right in and didn't sting my sensitive hands. It's left them soft, not itchy and the smoothest they've been in years. And no cracks at all. I was just able to rub Hannah's back without her saying 'ouch, it's scratchy mum'. WIN.
I've also been using the lime and lemon myrtle deeply cleansing hand wash (AUD$27) in place of my usual brand, which has definitely contributed to less pain and irritation on my hands.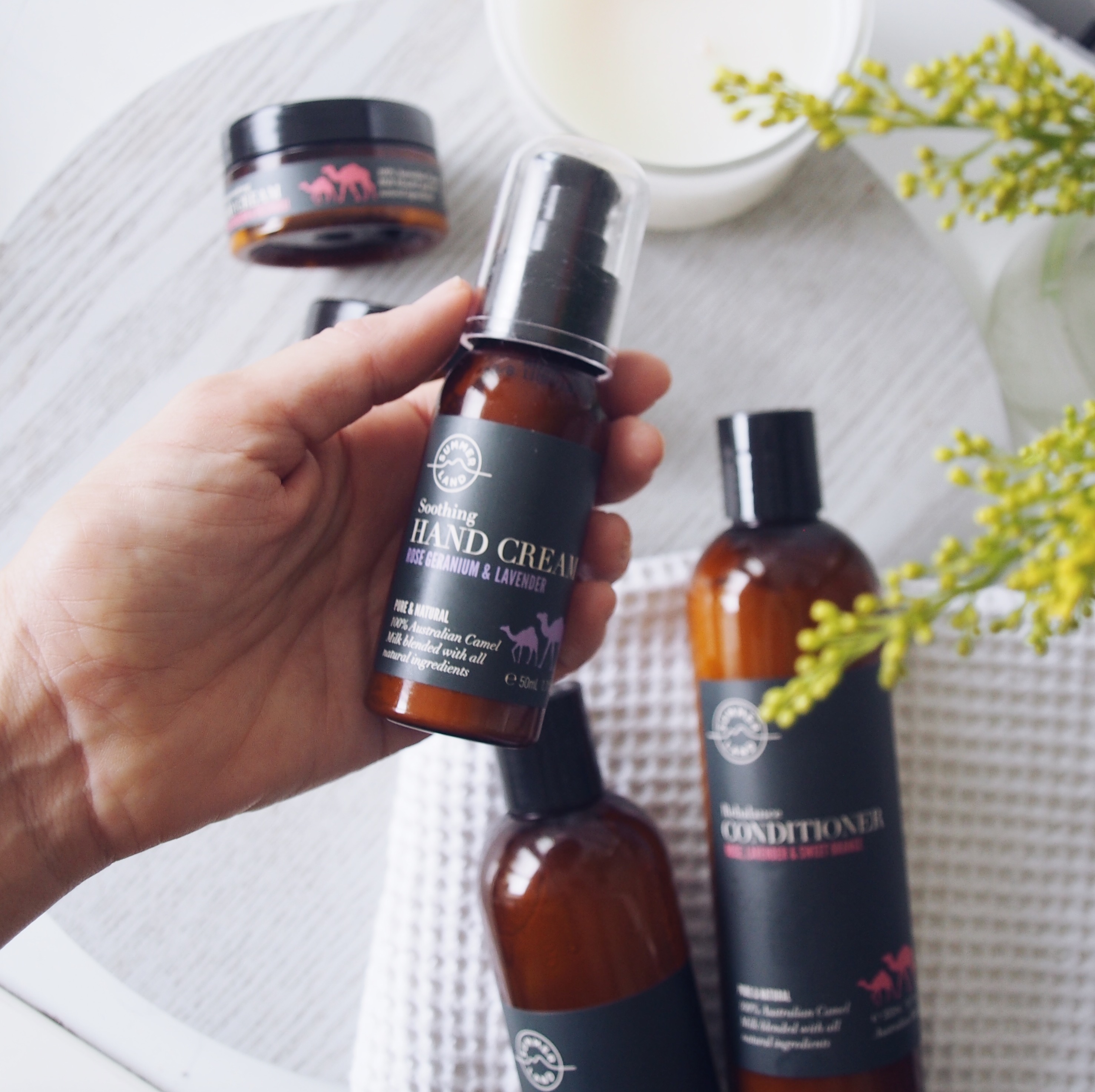 What is quite coincidental is that I didn't disclose my eczema to Summer Land, and before trying the product I missed the part on their website which detailed the reasons why CEO of Summer Land Camels, Jeff Flood, started the Summer Land Camels with COO Paul Martin – Jeff's eldest child had severe eczema and his in depth research into possible treatments led him to camel milk (which was unavailable in Australia at the time.).  Read more about that here.  So, you might say we were a perfect match! (Of course, if you do have any type of skin problem it's probably best seeking professional advice before starting a new skin care regime, and your results may not mirror mine.) 
The Rejuvenating Day Cream (AUD$39) and Anti-ageing Night Creams (AUD$39) are beautiful and rich, which I've enjoyed using on my drier skin – especially if I spend all day in air-conditioning. The scent of the face creams (as with all products) is lovely – a natural, floral scent. They have a thick consistency, yet they soak in really well and even the Night Cream doesn't feel heavy. I've found my skin feels smoother and less irritated. I was also really impressed with the Body Wash (AUD$27) which I've also used in the bath for the two girls – it's smells amazing and leaves the skin feeling moisturised. 
Which leads me to the Nourishing Body Lotion (with sweet orange and lavender AUD$36) – hubby came home from a fishing trip on the weekend with a nasty case of sunburn and I used this lotion on the sunburn – it didn't sting and it soaked right in. I've been using it daily on my legs and arms – I actually don't use too much body moisturiser usually as I'm not a fan of the commercial scents they use – and I do have sensitive skin and creams can make me itchy. This didn't at all and once again the scent is perfect.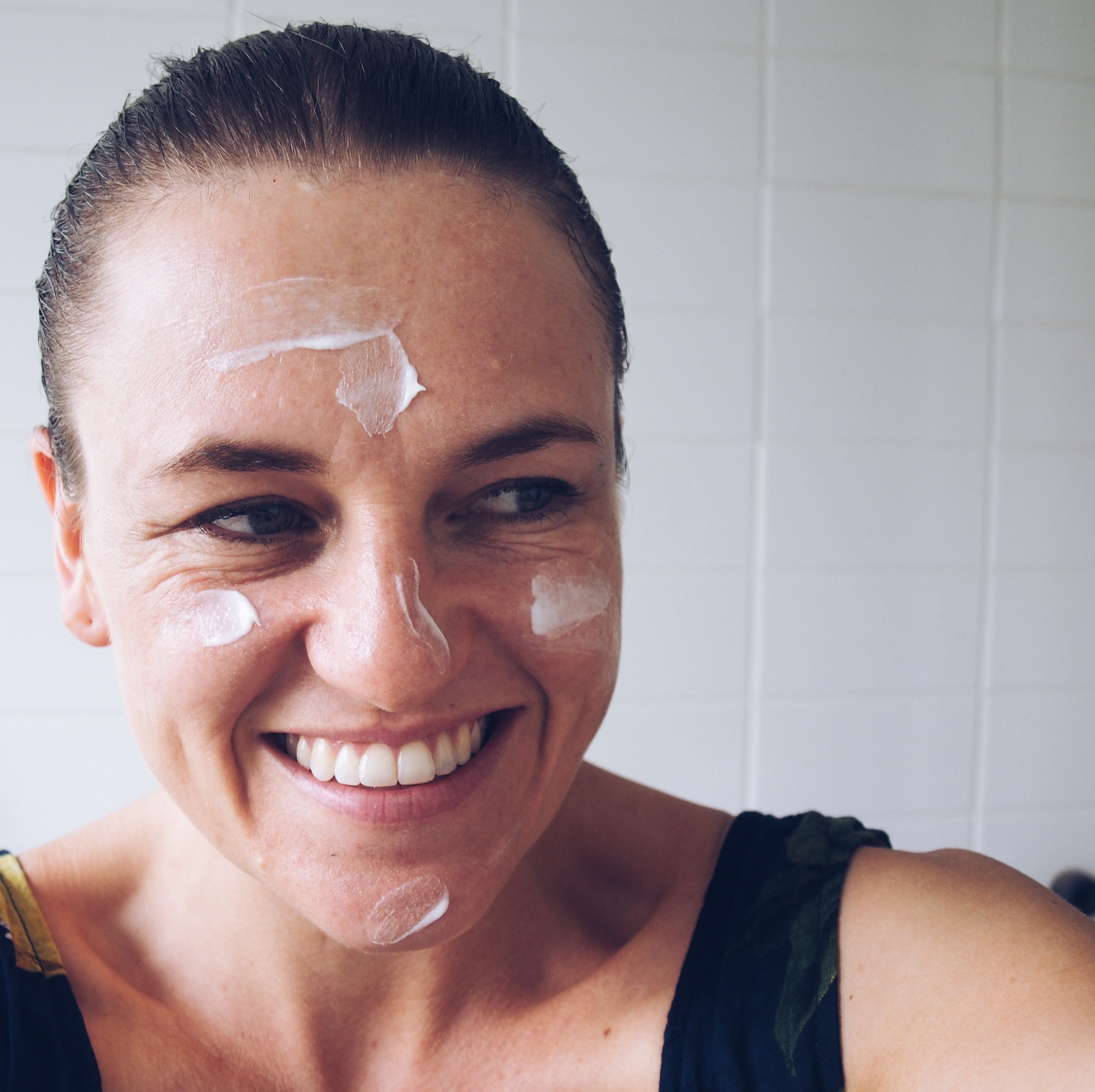 One of the interesting things I tried was the Summer Land Shampoo (AUD$36) and Conditioner (AUD$36) – I'm usually a bit fussy with my S+C but this was really fab, it left my hair soft and clean feeling without feeling 'stripped' which was nice.
Verdict
Verdict
I've been trialling the Summer Land Artisan Collection s skin care range now for a few weeks, and I know when these are empty I will definitely be refilling. The hand cream is a handbag must-have for me. If you're into skin care that makes maximum impact for not much effort (uh, HELLO!) then definitely give it a try.
The perfect Christmas gift
If you're still after the perfect Christmas gift, I can't think of many who wouldn't adore this range. I'm thinking of grabbing the hand cream in particular as a gift for the hard working educators at our daycare who are forever washing their hands! Another positive about Summer Land is that it works for all skin types, so no need to know what sort of skin someone has (EASY!).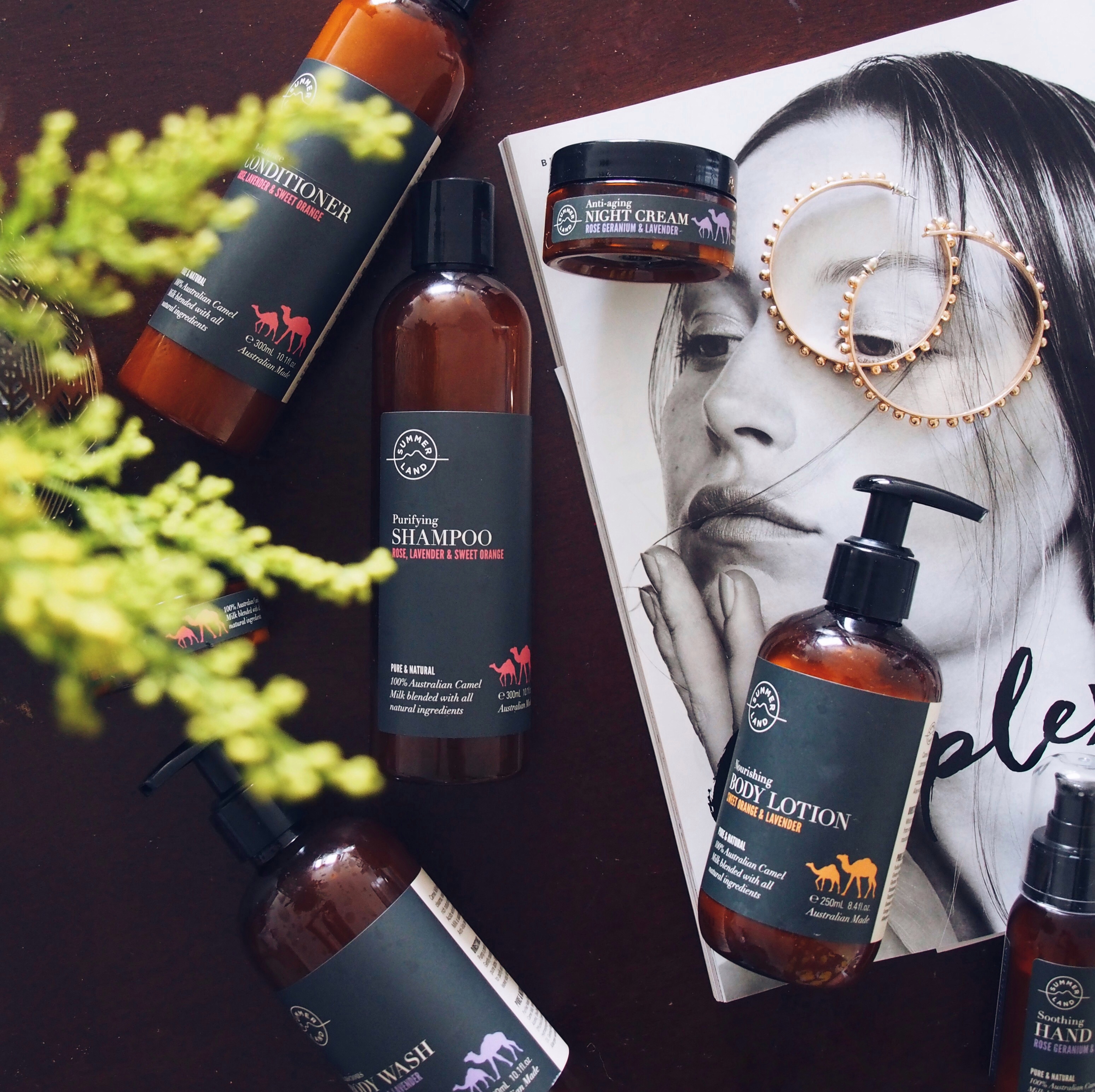 There's also a few fab deals on at the moment which will help with the gifting (for others or yourself ;)): 
Spend over $50 to receive a FREE Lip Conditioner. Valued at $13.95
Spend over $75 to receive a FREE Hand Cream. Valued at $27 
Receive 20% off when you purchase The Complete Artisan Collection (Save $56). (Offers not valid in conjunction with each other. Valid for purchases made Dec 1 – Dec 31, 2017.)
Shop the whole Summer Land Artisan Collection range here. 
FREE shipping for Pretty Chuffed readers
The lovely people at Summer Land have a special offer for the Pretty Chuffed readers – simply add in the code 'chuffed' for free shipping.
Summer Land Camel Milk Skin Care provided their skin care for me to try. This post has been sponsored but all thoughts and the review are my own. I'd be totally keen to tell you about this range anyway 🙂
Do you like trying new skin care? Or do you have your all time faves?