Sponsored by Gumtree
If there's one thing I love doing, it's hunting down a bargain. I mean, unless you're new here, you'd probably know that already, right?! I find there's something ever so thrilling about hunting down a pre-loved bargain, too. It's a treasure hunt. You never know exactly what you'll find, and finding something that someone has not even used, or worn once, for a fraction of the new price, is always the best part!  And of course, there's the environmentally friendly aspect of looking for pre-loved goodies that really is the icing on the cake, too. Shopping apps are my go-to and because of my love of the pre-loved, my fave is Gumtree, where I've bought kids toys, bikes, furniture and many other goodies. (And I'm not the only one – seven million Aussies visit Gumtree each month!)
So, you can imagine my excitement when the good people at Gumtree suggested I try and hunt down an outfit using their app. Of course I said yes, and because I have quite a few special events to go to this year, I turned the challenge into the 'great Gumtree special occasion outfit' hunt, and set about my search.
What you may not know is that the Gumtree platform has had a major new design overhaul, and the technology for searching, buying and selling has been seriously upgraded. You can now search based on size or shoe size, for example.
What I quickly realised is Gumtree is the best place to find an expensive, label piece for a fraction of the retail price. Zimmermann, Manning Cartell, Talulah, Camilla, Scanlan and Theodore, Sass and Bide, Bec and Bridge…it's all there. So, I decided to find an expensive special occasion outfit on a budget (of course!).
And wow, did I find some bargains! One of the dresses I found (Manning Cartell) was worth nearly $600 retail. I paid $150. YEP. And although many items are pre-loved, there is new items as well – in fact I found a brand new pair of sunglasses worth $265 (they still had the tags on!) for just $60. So, read on for my top tips for shopping on Gumtree for clothing and accessories, and exactly how I put together a designer outfit worth $825 for less than half of that price. (And if you want to start searching for your next outfit, start on Gumtree right here!)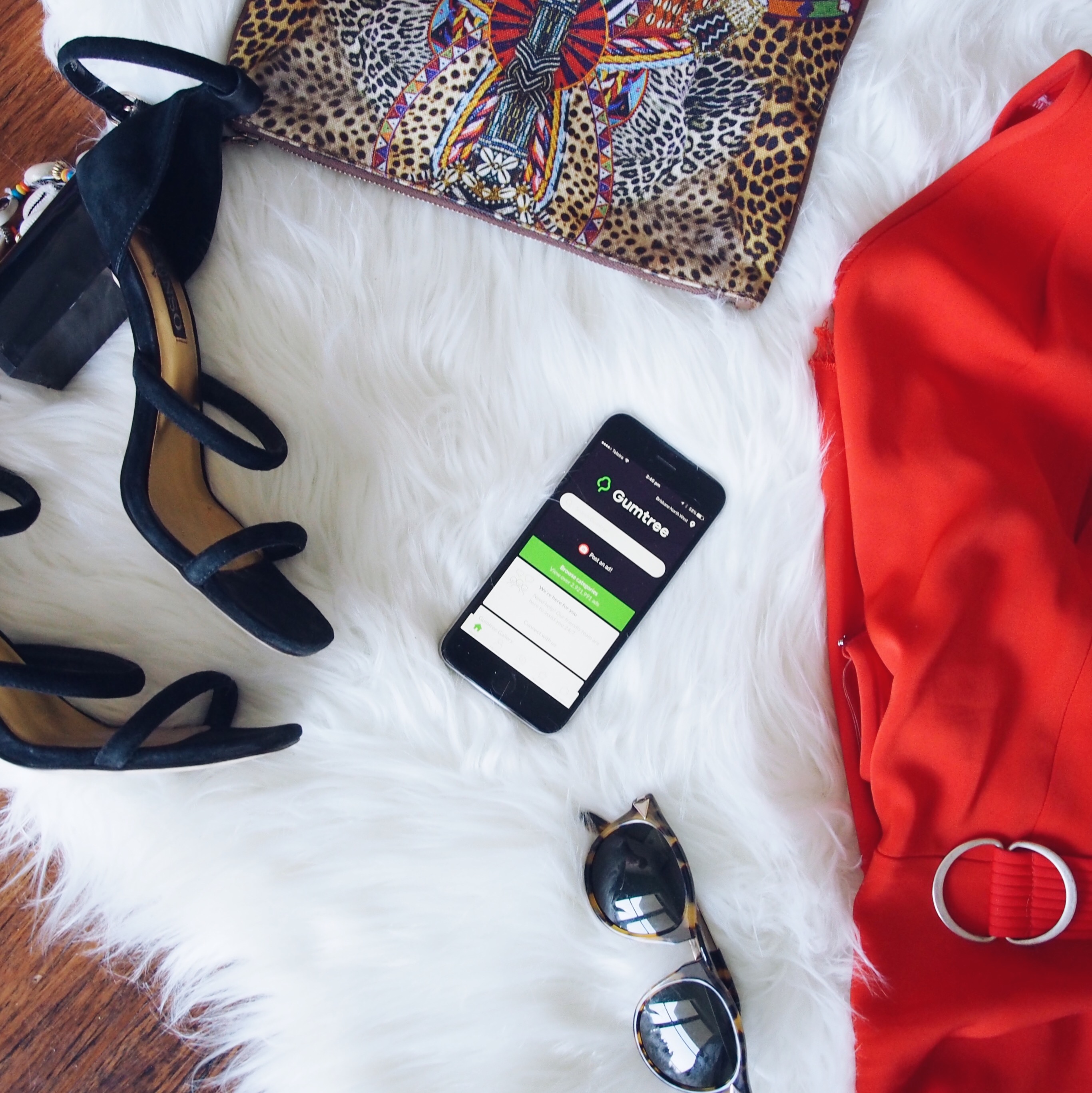 How to shop on Gumtree for an outfit
1. Know what you're looking for
Do your research. For example, say you want a dress – do you want a midi dress, a mini dress or a maxi dress? Size? Searching specifics can narrow the field which is helpful when there is a lot of results. And knowing your size in certain labels before searching can help. For example, I searched specific labels – like 'Zimmermann dress' but to narrow things down I searched my size, which in Zimmermann is a 1 (or depending on the style I can wear a 2). So research your size in certain labels first.
And, are you prepared to have the item posted or would you prefer to pick it up? What I love about Gumtree is you can easily search for what is close to you (which is also great for last minute buys!) or you can expand it to the whole of Australia.
2. Save your searches
If you're after a specific item or brand, the saved searches tool is ideal. Each time you save a specific keyword and location search, you'll receive an email update whenever a matching item is listed.
3. Have a budget and stick to it
I knew with my search I would prefer to pay no more than $150 for a dress, so I searched based on that. Have a budget in mind, and stick to it.
4. Ask questions
Another thing I just love about Gumtree is the ability to easily ask the seller questions about the item. Many sellers include their phone number so you can call or text, or you can send a message through Gumtree which also goes to email. I found this part really, really easy and most sellers replied back quickly. For example, one of the dresses I was considering was a size 8, however I am more of a size 10 – sometimes 8 depending on fit; so I asked the seller about sizing. She replied that she was usually a 10 and went down to an 8 based on fit, so I took that as a good sign that it would fit me too.
Another was selling a dress locally to me so I asked to go and try it on before purchasing (unfortunately it didn't fit, but prevented me buying the wrong size, which saved me money and time in the long run!).
Ask about the condition of the item, the fit, has it been dry-cleaned, why they are selling. Most sellers are only too happy to help.
5. Negotiate
Don't be afraid to ask the seller if they would negotiate on price. Even a simple question 'is the price negotiable?' is polite and totally acceptable. With the shoes I bought, I negotiated the cost of postage to be included in the price and the seller was only too happy to oblige.
6. Pay with cash on pick up, or PayPal
You may not know this, and I must admit I wasn't aware before I started this project, but many sellers on Gumtree now accept payment via peer-to-peer method, PayPal! I am a big user of PayPal so I was super happy to find this out. I bought everything I've featured using PayPal which I find is a much safer way than direct deposit. You can even pay using PayPal on pick up now, too. Just ask the seller what sort of payment they are expecting or would prefer.
7. Meet in person
If you can find your item locally, meet in person – it's always the best way to inspect the item and to pay.
8. If the item is posted, be sure to ask for tracking on postage
If you have an item posted to you, ask for tracking. It doesn't cost much more and is worth it for peace of mind. I found sellers were only too happy to do this and some even sent photos of the item being posted as well.
My outfits 
So, what did I find? Last week we attended my brother-in-law's engagement party and I wore an outfit completely sourced from Gumtree (well, minus my earrings which I had at home and knew they would match perfectly!).
The dress is Bec and Bridge ($85 – full price $260), and was worn once; shoes are Senso ($100 – full price $220), the bag is Camilla ($94 – full price $120). I wore the Karen Walker sunnies (brand new and only $60 – full price $265) during the day then took off for the party – what I usually do if we're heading to a daytime wedding. All found on Gumtree. 
The next outfit, which I intend to wear to a wedding, included a Manning Cartell dress ($150), with the same shoes and bag as before. All found on Gumtree. 
What do you think? Are you ready to go shopping?! 
This post has been sponsored by Gumtree however all items and wording is of my own choosing.