Sponsored by Westfield Chermside
I'm sure we all know that shopping = cardio = hunger. Now, you're in luck, as Westfield Chermside has revealed its new dining and lifestyle precinct, with an array of dining options (pre-and post shopping). It's a fab and complete dining, lifestyle, entertainment and fashion experience with over 20 new eateries and stores. I went along to the launch to check out the new options (and the new fashion brands too – look, it's a tough job but somebody has to do it!).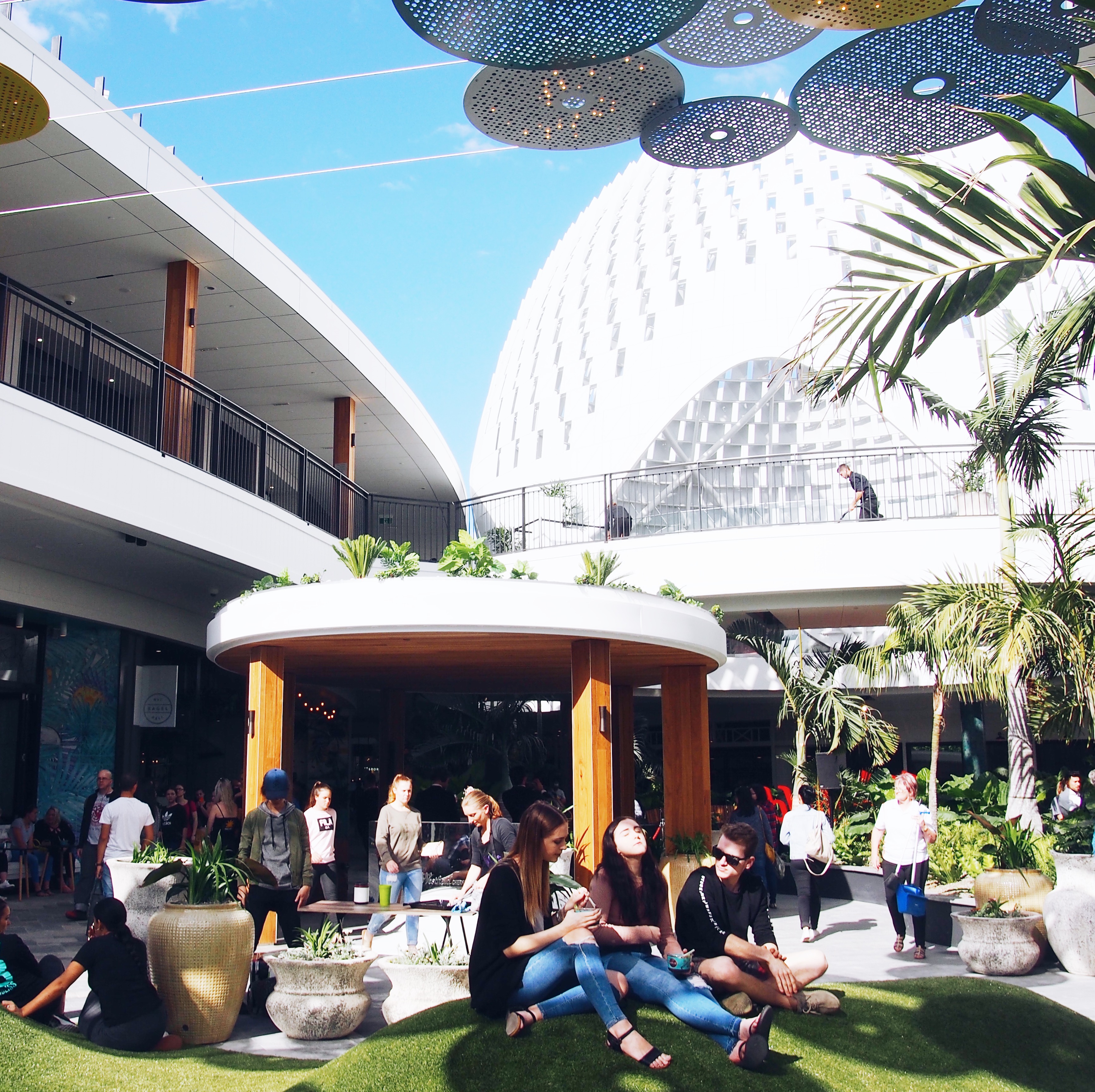 The new precinct centres around 'The Urchin' – a light filled dome that forms the ultimate focal point and a wonderful place to relax and/or dine. Surrounding The Urchin, you'll find brilliant new restaurants and cafes – one of them Betty's Burgers –where we had lunch on the opening day (and I have to say, I think it's a must do!). If you're a burger fiend you'll love Betty's, and even if you're not – there's ice cream and wine (yes, it's licensed). The kids loved their kids' burgers and fries, and thick shakes, while hubby and I had our own burgers, wine and a beer. Followed by a selection of the Concrete Co. ice cream, of course.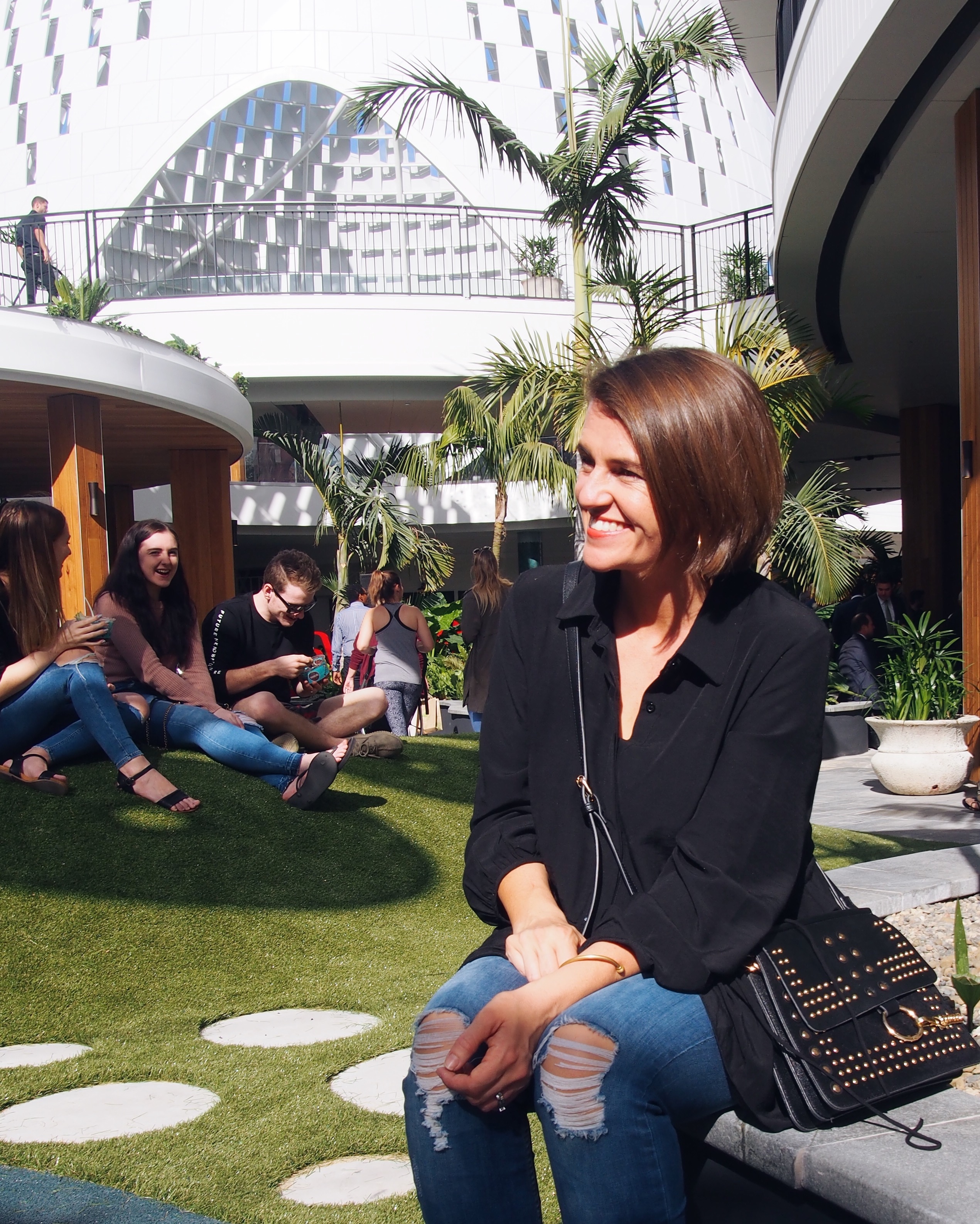 Prior to our burger lunch, I indulged in a spot of shopping, and we checked out the new lifestyle options too (hello Endota Spa and Rainbow Nails!). One thing I definitely noticed with the new extension to the centre is just how much light flows through – it's just beautiful. It's easy to navigate and plenty of room to move around, with lots of places to sit and enjoy the experience.
The restaurants and cafés play on the gorgeous light coming through the centre with plenty of room to enjoy the sunshine. There's even a super cute kids' playground which our girls loved. Great to let the little ones burn off some steam before or after a bit of shopping.
And shopping, I did! I set myself a challenge of selecting two outfits – one casual and one a little more dressy, that were both affordable and tran-seasonal. I wanted something fun – perfect for a casual day with the kids; and then something that you would wear to catch up with friends for dinner, or to a burger and movie date. I wanted them to be fashionable and on trend, but with classic pieces that won't date quickly. And, to be honest, this was super easy to do (but difficult to choose)! Check out the outfits below (all items are available at Westfield Chermside now), including my 'where to eat' and 'where to shop' guides.
Where to eat
We ate at Betty's Burgers and I can't recommend it enough but as there is a huge selection, here's just a few of the other places that caught my eye, and where I'll be trying next.
Betty's Burgers: A must-do – burgers, fries and a drink. Followed by ice cream. Amazing! Kids are catered for with kids burger meals, too.
Tapworks Bar & Grill: Tapworks specialises in beer and looks like a fab place to catch up with friends.
Cafe 63: Cafe 63 dishes up fast and tasty Australian cafe fare.
Fiery Deli: South American street food – can't wait to try it.
Kinn + Derm: Thai – one of my favourite cuisines! You just can't go wrong with Pad Thai.
PHO Vietnamese: Of course, I had to list Vietnamese here! I'll certainly be trying out PHO soon.
Other new cafes and restaurants open include:  4Fingers Crispy Chicken, Alma Mexicana, Archer Specialty Coffee, Arkive Vintage, BiN 931, Bubble & Pop, Carcamo Candy Apples, Coco Bliss, Gelatissimo, Hermosa, Hero Sushi, Motto Motto, NYC Bagel Deli, San Churro, Savour Patisserie and Zeus Street Greek.
Where to shop
If you haven't heard, Westfield Chermside has pretty much any store you could ever want (like, seriously!). A whole host of shiny new stores opened just this year – and they're some of my all-time faves – H&M, Zara, Sephora? Tick. Country Road, Esprit, Sportscraft? Tick. Forever New, Colette, Rubi Shoes? Tick. Witchery, seed Heritage, Decjuba? Tick! And many, many more – check out all of the new stores here. 
I spent a few hours in only a couple of my favourite stores – Esprit, Country Road, Rubi Shoes and  Colette and found some amazing pieces. I went for a pair of patch denim jeans, which I've paired back with a cute sweater with patches (I know right, how cute is it!?), a pair of sneakers and a backpack. All super comfy and easy to wear. For the second outfit, I paired some ultra-comfy jogger pants with a side tie, stripe top and a gorgeous on trend 'guitar strap' bag. A pair of simple mules to finish it off. The best part? All pieces are under $100, of course!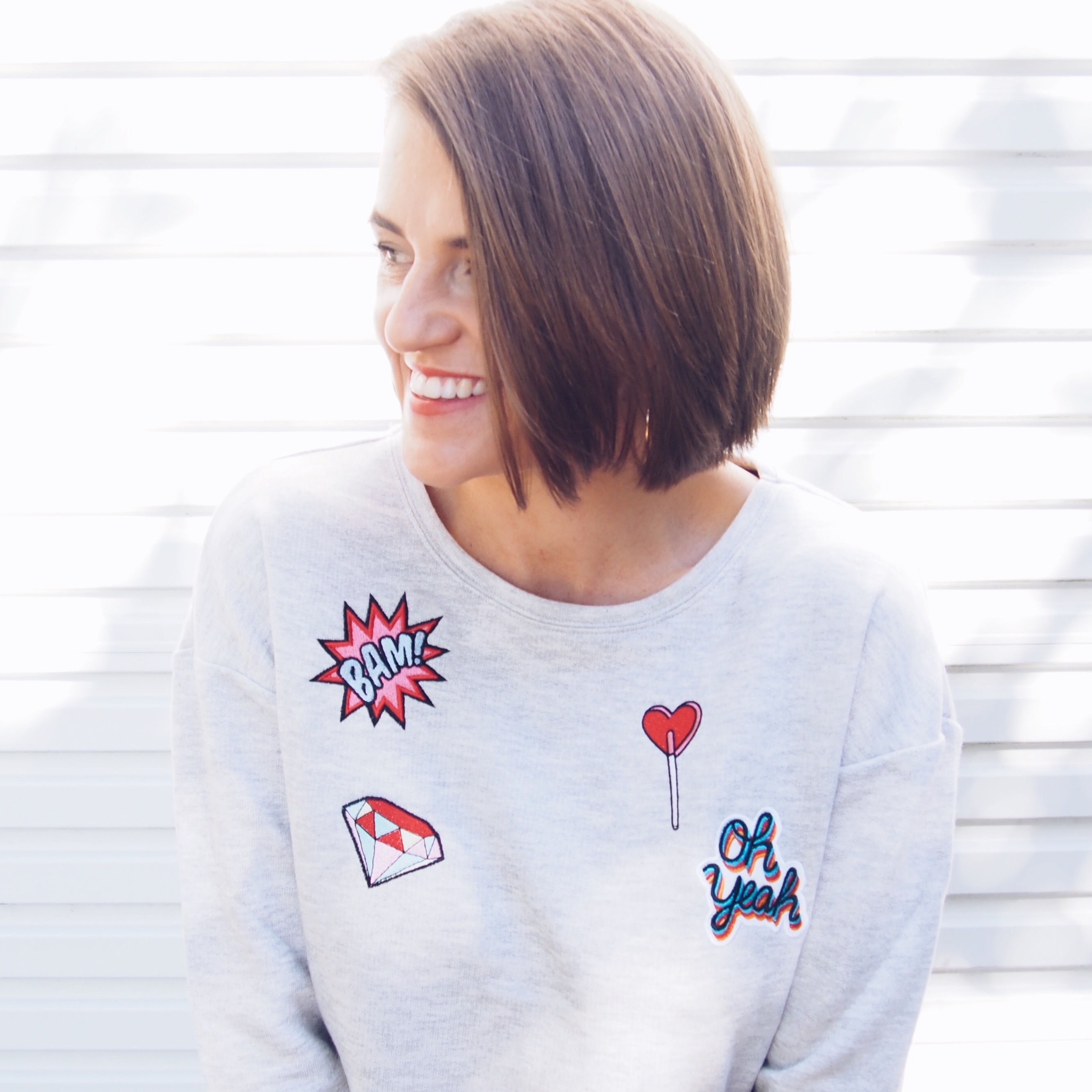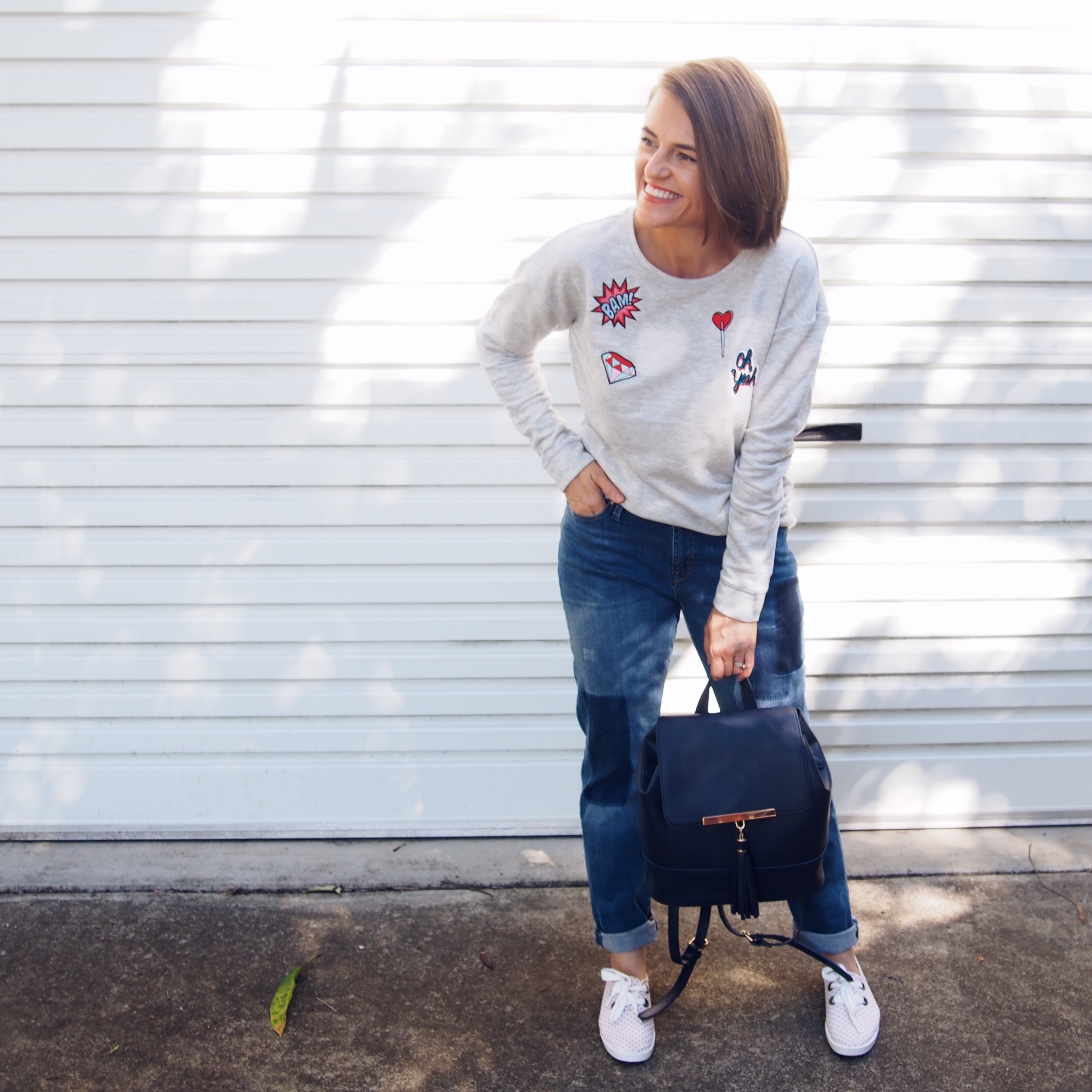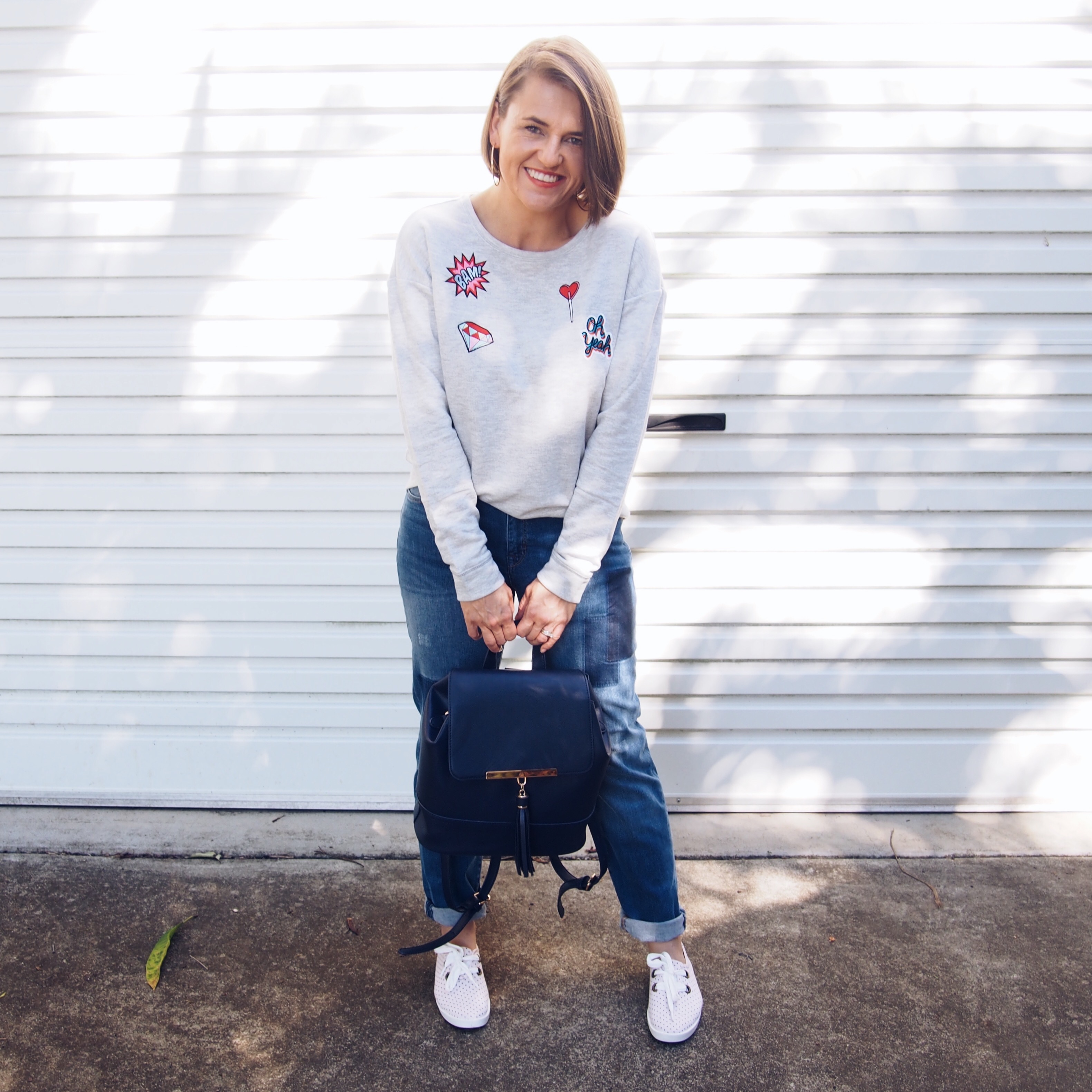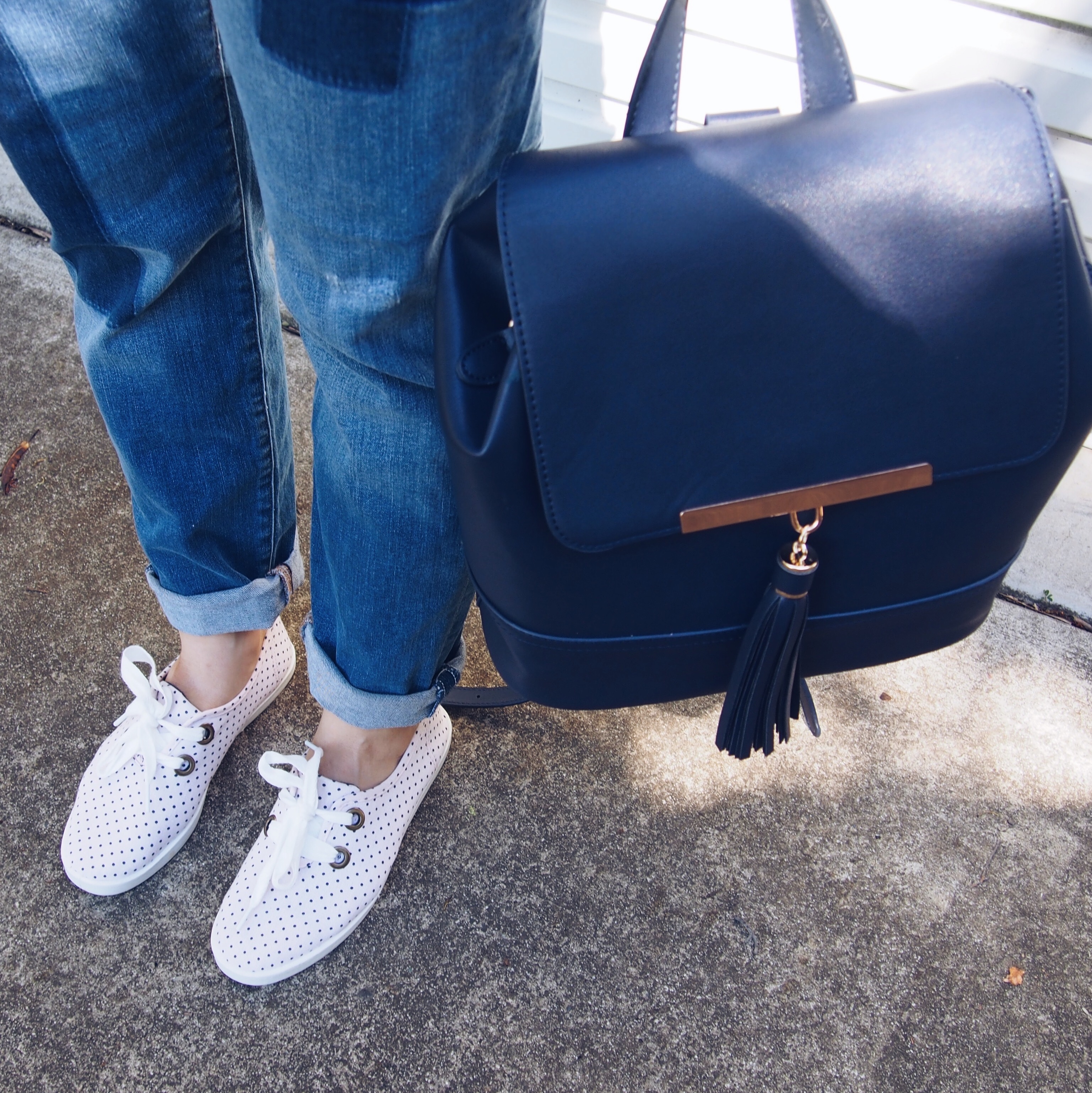 Esprit jeans AUD$99.95 and sweater $69.95 | Rubi Shoes sneakers AUD$19.95 | Colette by Colette Hayman backpack AUD$54.95 all available at Westfield Chermside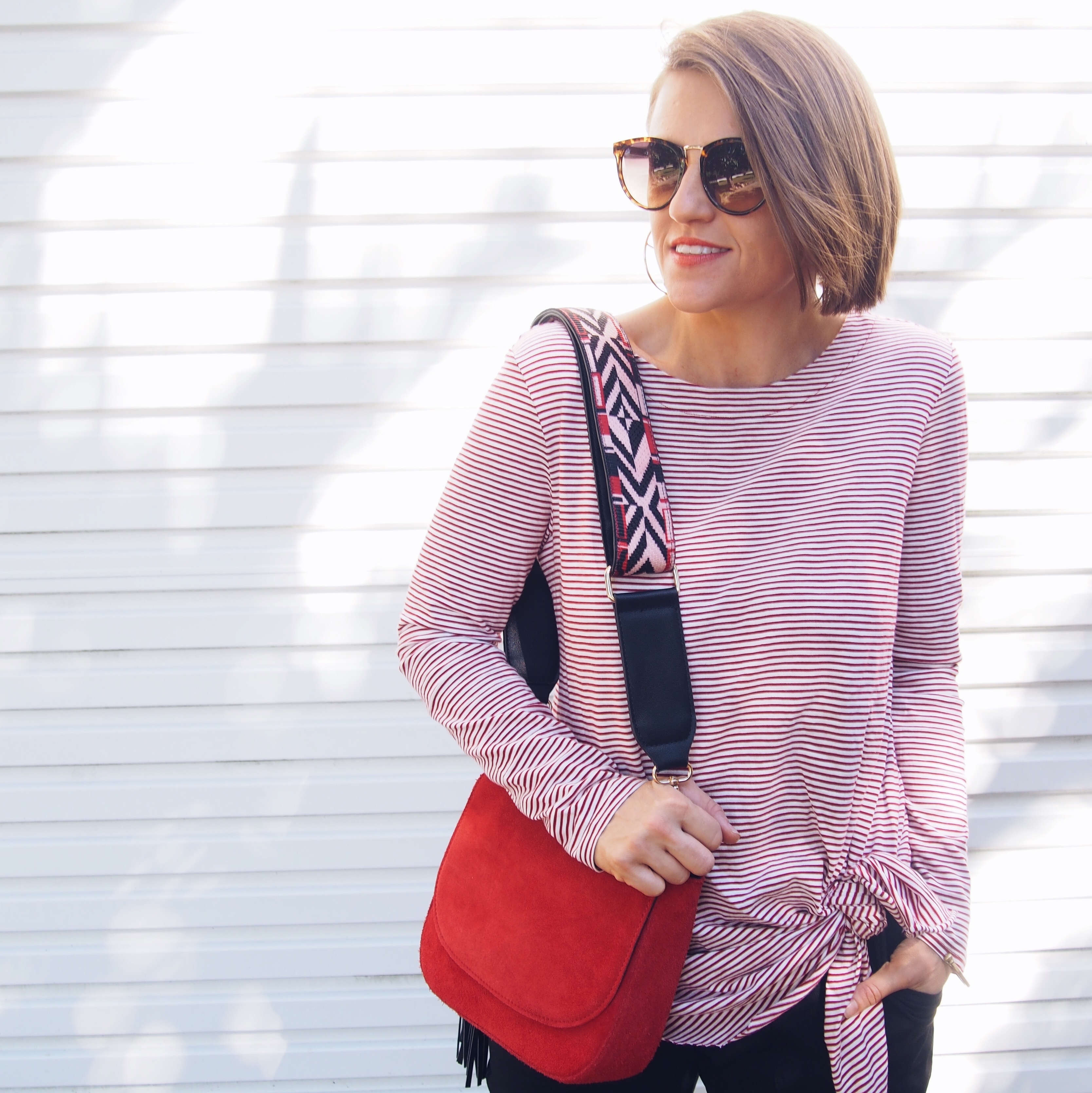 Country Road top AUD$79.95 and joggers AUD$79.95; with Rubi Shoes mules AUD$49.95 and Colette by Colette Hayman bag AUD$59.95
So, what do you think? Will you be checking out the new precinct at Westfield Chermside? 
This post has been sponsored by Westfield Chermside, however all words, styling and opinions are my own.