Brought to you by Olay
My skin and I have had a love/hate relationship since I was very young. I was very careless as a teenager – sun baking and not removing makeup before bed. Then, as a young adult, I discovered a skin care regimen and I was adamant about setting a routine and buying ridiculously expensive products. Now, with two young children, skin care is all about convenience and ease of use, and I must admit I am lucky to apply moisturiser before bed sometimes!
Lately, as I am now 31, I have been on the hunt for a new skincare regime that will fight the signs of ageing, is easy to use and won't cost the earth. Even better if it is easily accessible and I can add it into the shopping trolley!
So when Olay asked me to sample their Total Effects range, I jumped at the chance. I've been a fan of the Olay range since my early 20s when I began using the daily moisturiser, however I was yet to try the Total Effects range.
As the packaging says, the Total Effects range provides 7 youthful benefits – reduction of age spots, visibly reduced lines and wrinkles and smooth skin with reduced pores. It is designed to protect skin against the harmful UVA/UVB rays with a proven vitamin-rich SPF15 VitaNiacin Complex for younger looking protected skin. So, I was very keen to give it a try!
The products I have been using
For the past week I have been using the Total Effects Day Cream in Normal with SPF15, the Total Effects Foaming Cleanser, the Total Effects BB Cream with SPF15 and the Total Effects Anti-Ageing Night Firming Cream.
How I use them
In the morning, I wash with the cleanser then apply the day cream. When I am ready to do my makeup I apply a little of the BB Cream and then my makeup over the top. I don't have to use as much foundation and depending on what I have on that day, sometimes I don't apply foundation at all – just the BB Cream, a little mascara and lipstick.
At night, I was with the cream cleanser and then apply the night cream.
What I liked about the products
Firstly, all of the products come in lovely packaging which is super easy to use – I adore the pump packs, especially if you're applying with one hand (child in the other!). I love how the Total Effects Day Cream and BB cream have sunscreen included – it really is a time saver for me and piece of mind, especially as I am usually outside in the mornings with my two girls.
The creams are not greasy at all – and although the night cream is slightly heavier, I didn't find it to be greasy. I found especially with the day cream, I didn't have to use much at all.
My skin is naturally more on the dry side, so I appreciate the cleanser's consistency and it is non-drying, too. My skin feels clean and smooth afterwards, without feeling dry. Win.
I really adore the BB cream – I first came across BB cream when going into hospital for Hannah's birth – it was so lovely to have a daily moisturiser in my bag that also had a little coverage if visitors popped by. The Total Effects BB Cream is gorgeous – it applies really well, blends perfectly and has a lovely scent, too. I took it with me on a beach trip – it's perfect after a swim when your skin feels all salty and dry – just apply and you're ready to grab some lunch. It has a subtle touch of foundation, yet I can tell the difference – in the photos before and after below (no editing – hello non-makeup, just woke up face! Eeek!). You will see the redness in my skin is not as noticeable and especially around my eyes, the colour is brighter and lines are reduced. This is just after one simple application of the BB Cream, only minutes apart. I hadn't even had a coffee yet!
After using the Total Effects range, I have noticed my skin looking visibly smoother and brighter, and although I have quite a few fine lines around my eyes, they do feel smoother and less noticeable. I'm also loving the ease of use – the products easily fit into my daily routine. I do notice a difference in the morning after apply the night cream, too.
Would I recommend?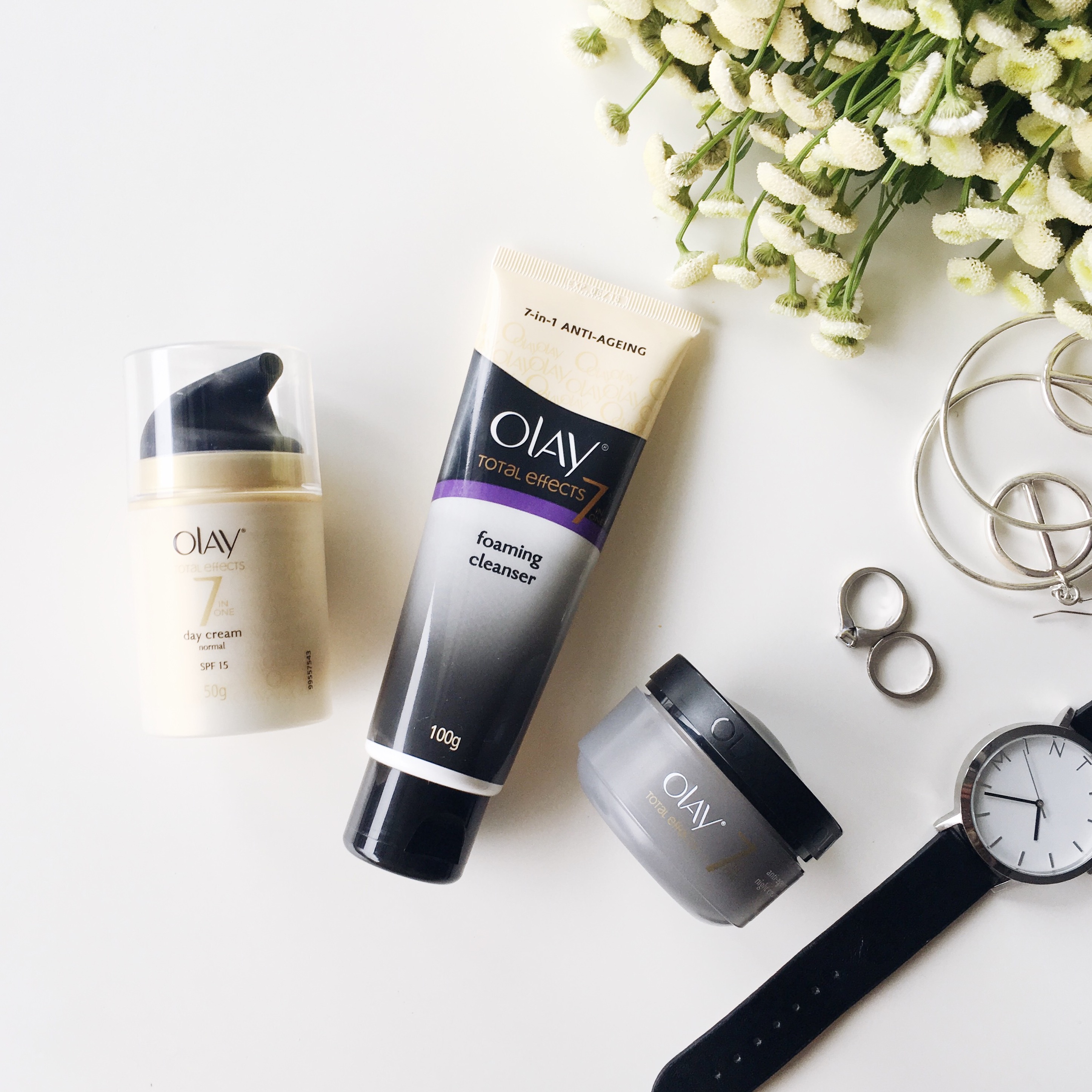 Definitely. It's definitely worth a go and especially if you're a busy mum (is there such a thing as a non-busy mum?!), it's an easy regime to follow and you do actually feel like you are making a difference to your skin. Best thing is – it's not expensive and it is easily accessible – I can pick it up at my local supermarket.
The range is also available online.
Olay Total Effects Day Cream Normal SPF15 AUD$32.99 RRP | Olay Total Effects Foaming Cleanser AUD$13.99 RRP | Olay Total Effects Anti-Ageing Night Firming Cream AUD$34.99 RRP | Olay Total Effects BB Cream SPF15 AUD$32.99 RRP
Do you have a daily skin care regime, or are you searching for a new one? 
This post has been sponsored by Olay, however all wording and images are my own.