As a mum to two young children, I love my 'job', but any day which is a bit different to the usual – and especially those where you can have a bit of time to yourself, maybe get glammed up, maybe wear some gorgeous clothes – is a good day.  If you have been following along on my Instagram, you might have noticed that a few weeks ago, I had quite a different Friday. I got up, grabbed a coffee, said hello to my babysitters for the day (hubby's mum, dad and sister!) and went over to have my hair and makeup done for a photoshoot.
The photoshoot was for Styling You's spring/summer shop and it was FUN (with all caps). Alongside an amazing hair and makeup professional, a very talented photographer, a wonderful stylist and of course the fabulous Nikki, I got to wear and model the clothes that would soon be on sale in the Styling You shop. Well, the Styling You spring/summer shop is open!
The Styling You spring/summer shop is an edit of 15 pieces carefully chosen by Nikki – it's a capsule wardrobe that work together to create at least 28 different outfits. It's full of on-trend pieces in a considered seasonal colour palette. This season it is full of gorgeous blues, white, black and pink.
What I love about this capsule is most of the pieces work really well in a casual wardrobe and are practical for life with kids. I also love how each piece is shown modelled on two different women – both with different body shapes, heights, sizes and hair colour (I'm 158cm tall and normally wear a size 8-10 and Nikki is 166cm tall and normally wears a size 14-16). Oh, and did I mention many of the price points in this capsule are right up my alley?!
So, today I thought I would tell you about my seven favourites from the spring/summer Styling You shop, and why I love these special pieces.
1.Adrift Bell chambray dress AUD$89.99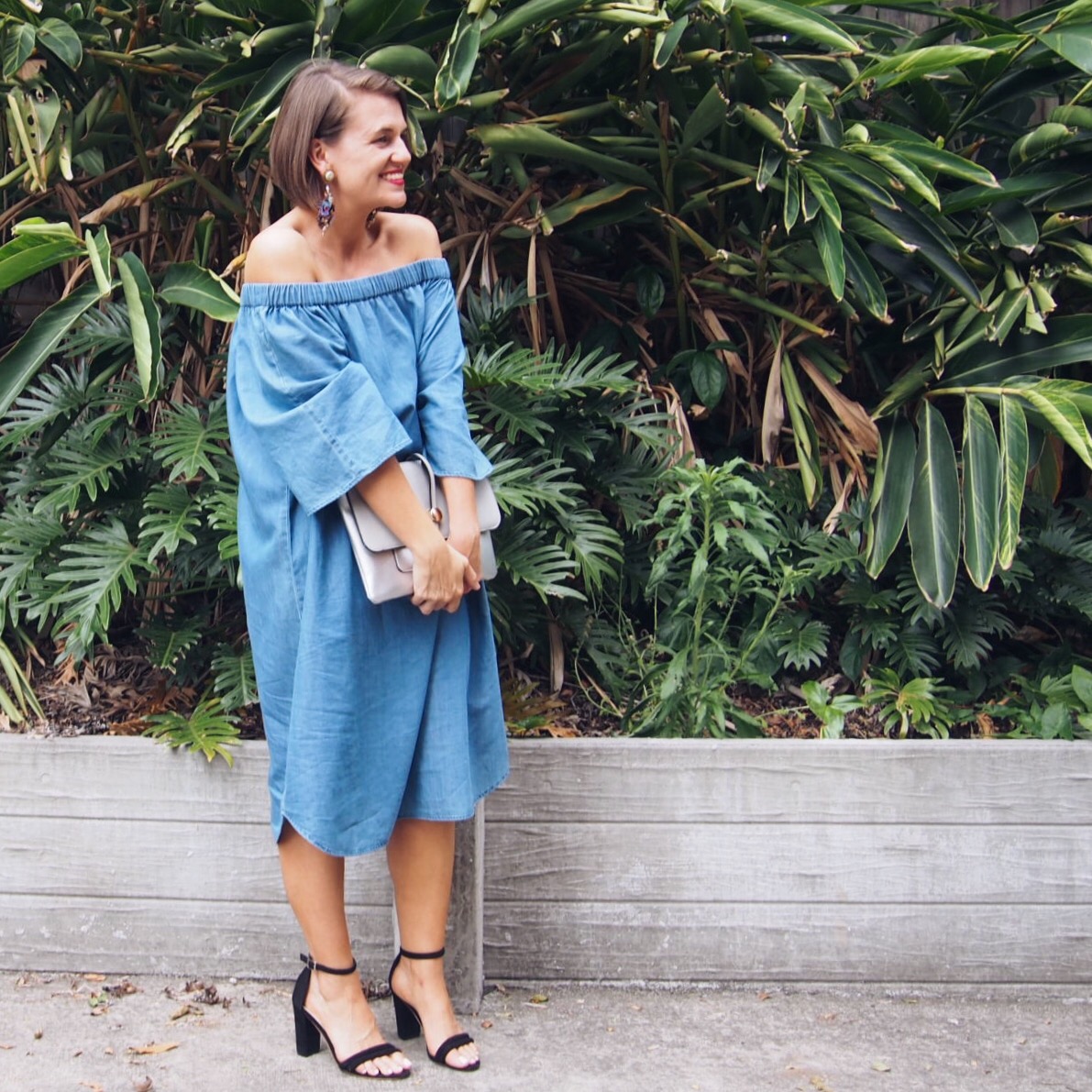 Why I love it: As soon as I slipped this dress on, I felt really 'on-trend'. It has a gorgeous oversized feel and the fabric is amazingly soft and high quality. I wore it all day Saturday just past to a fashion event, then back hanging at home with my two little ones. I love this one.
Where I'll wear it: Out with the girls, dressed up with heels and earrings; or with tan sandals and big sunnies on Saturday trips to the beach.
2. Bohemian Traders denim skirt AUD$129
Why I love it: This skirt is deadset amazing to wear. It's very comfortable and the fit is really flattering. If you've been searching high and low for a denim skirt to update your wardrobe for summer, this is it.
Where I'll wear it: Sunday BBQs with a floaty white top and tan sandals; or with a tee and sneakers for a trip to the park.
3. Bohemian Traders boyfriend shorts AUD$129
Why I love it: I'm a shorts lover from way back – and these are no exception.  A really great fit, these shorts can be worn on the hips or a bit higher. The distressed look is still really on-trend and these shorts look fab with anything from a tee to a blouse (check them out with the Adrift Bell off the shoulder top – I love this outfit!)
Where I'll wear them: To the beach with a floaty top (like the Adrift Melanie top) and sandals, or dressed up with an off the shoulder to a dinner catch up with friends. These shorts will also be on high rotation during the week with a t-shirt and my slides!
4. Adrift bell top in black AUD$79.99
Why I love it: This top is one of those ones you'll call upon when you don't quite know what to wear. It's a great quality fabric feel and if you love the OTS shape, you'll love this. It's also long enough for me to wear as a short dress – perfect for holidays around a pool or at the beach!
Where I'll wear it: I'll be wearing this with shorts during the week, and dressed up with jeans on cooler days for breakfast or dinner out.
5. Bohemian Traders dreamer dress in black AUD$149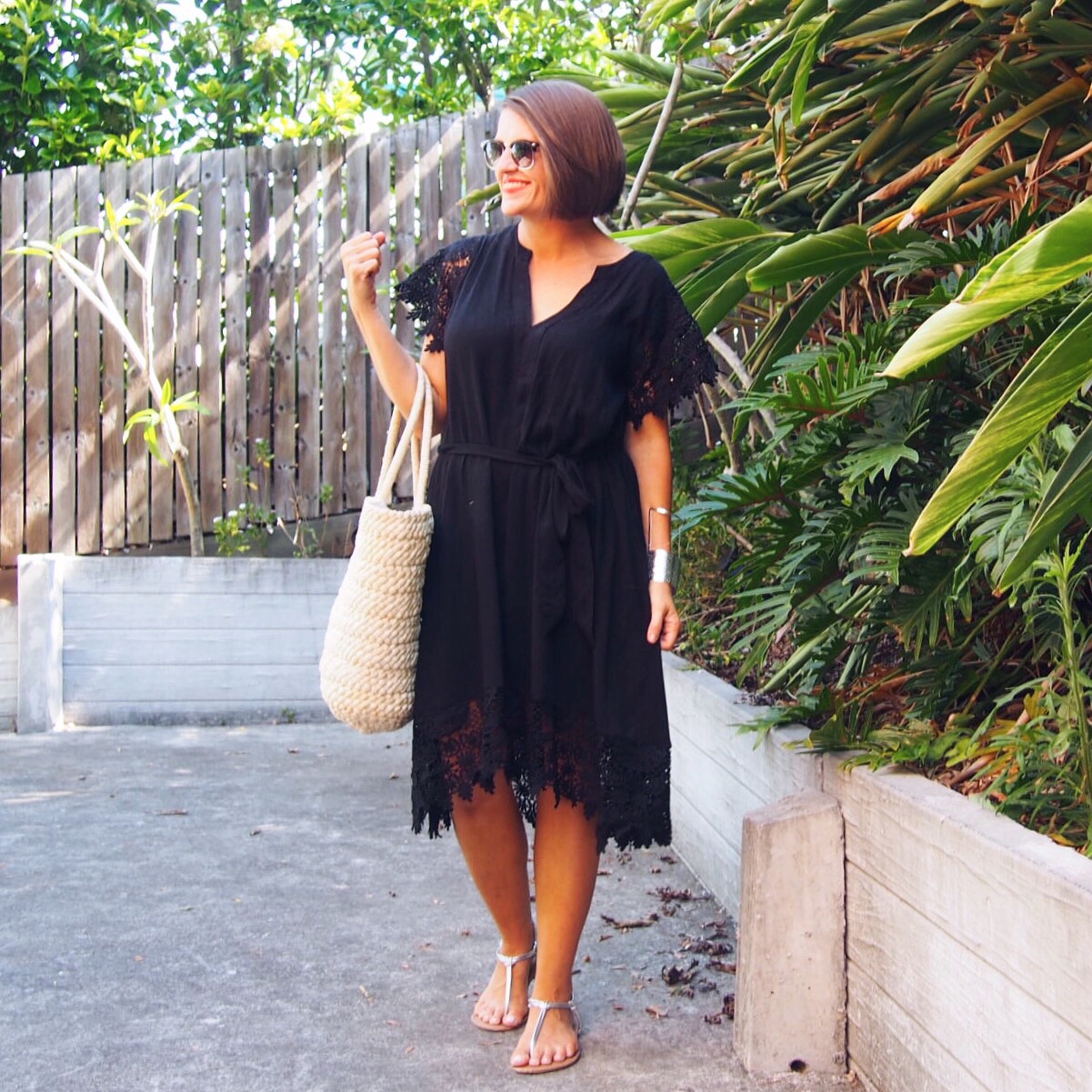 Why I love it: Breastfeeding friendly, comfortable to wear and versatile, this dress is high on my 'love' list. The gorgeous lace finish around the arms and hem is really flattering, and it looks great belted or not. I've worn it casually with sandals and a bag, but it's easy to dress up, too.
Where I'll wear it: To a birthday party with nude heels and statement earrings, or to a breakfast catch up with sandals and sunglasses.
6. Surafina sportif contrast stripe dress AUD$129.95
Why I love it: Honestly, if I wasn't still breastfeeding, I'd be wearing this number almost everyday. Comfort – tick, stripes – tick; something a bit different – tick. When you slip this one on, you appreciate the high quality fabric and the cut, which is made to flatter. For now, I can wear for home days and when I do get out of the house without baby in tow!
Where I'll wear it: At home with comfy sneakers, and out to grab coffee with lace up flats. It'll also be fab in the cooler months and I think it would be a perfect maternity dress, too (which won't be happening for a very long time again here!).
7. Adrift castaway earrings AUD$49.95
Why I love them: I've gone a bit crazy collecting statement earrings of late, and do you know why? You know when you have about 5 minutes to get ready for an event or outing, and you just want to feel a bit dressier? A statement earring is going to do that for you. I find them difficult to wear around the grabby one year old, but if I'm heading out without the kids I head straight for my earring collection and throw a pair on. These Adrift earrings are fab – they're high quality and comfortable to wear, and a great length. I'm a fan of the black/grey colour way however the peach is also gorgeous and Nikki looked great in them.
Where I'll wear them: With a navy or black dress to a wedding, or with a white top and denim shorts for a trip to visit friends.
Sidenote: I had planned to include the Hunt + Kelly Sintiya tee in this post, but it has completely sold out. You have to be quick!
View the whole Styling You shop here.
What's your favourite item from the Styling You shop? 
This post has been sponsored by Styling You, however all products chosen and wording is my own.