Brought to you by Michael Hill
I can probably pin-point the beginning of my love for jewellery to my fifth birthday, when I begged my mum to have my ears pierced. She agreed – and although after the first ear I was not so keen on having the second pierced (I hear these days they do them both at the same time!), I went through with it, and since then I've worn at least some sort of jewellery every day.
In saying that, I'm not a person to pile on plenty of pieces – I prefer to either make a statement with one or two pieces; or wear something simple. I've been wanting to wear more jewellery and especially now with two small children I want to wear and own pieces that I love, and that can be used to create a number of versatile looks. Even better if the pieces match back flawlessly with my one constant jewellery piece – my wedding set – my Michael Hill engagement ring and wedding band.
Do you have a great engagement story? Herman and I had been together for four and a half years when he asked me to marry him.
It was November 2008 when he surprised me with a weekend away in the Whitsundays, and I was super happy, not at all suspicious, as we were so in need of a break away at the time – both of our annual leave was piling up.
We stayed at quite a nice resort, and every night the resort's room service would leave a small box of chocolate on the bed for you to eat after dinner/with a cup of coffee or glass of bubbly.
The first night we had a lovely dinner but afterwards, we had a silly holiday argument. As we always do, we apologised and made up, but it wasn't the perfect start to our beautiful holiday. The next day, however, was lovely and we swam, sat by the pool and relaxed. Herman had organised for me to visit the day spa for an hour which was an amazing surprise and that night we went to the hotel restaurant for cocktails where I was told we were having a surprise dinner at our resort unit.
When we arrived back to the unit there was a full table service set up, complete with a waiter, who greeted us like we were A-list celebrities. At that moment I thought, wow, Herman is really doing a great job at making up for last night's argument!
We had a delicious dinner and then afterwards Herman put in front of me one of the small chocolate boxes. I thought he was just giving me the chocolates from the turn-down service to have for dessert. I opened the box and inside was a handwritten note "Will you marry me?" And when I looked up he had the Michael Hill box with a gorgeous diamond ring inside. I said yes, obviously! (A year and a half later, we were married.) I wear my engagement ring and wedding band everyday – two pieces I adore so much and have so much meaning.
So when the lovely people at Emma and Roe by Michael Hill* contacted me to see if I would like to check out their range, I was absolutely delighted. I love jewellery with a tale to tell, some meaning – to you or to your loved ones, and of course I couldn't knock back the chance to reminisce about my engagement!
Emma and Roe is a gorgeous range of charms and charm jewellery in sterling silver and gold, that allows you to tell a story. I like to wear jewellery that means something to me, that makes me feel good and most importantly is comfortable to wear, so Emma and Roe is right up my alley!
I chose to try the classic charm bracelet in sterling silver (17cm AUD$89) and the rice bead necklace (60cm AUD$159) and an assortment of charms, all of which have a special meaning to me.
The wish bone dangle charm (AUD$49) reminds me of my mum, whom since I can remember has always placed great significance on finding and using (or keeping for a rainy day) the wishbone from a roast chicken dinner! It's also good luck, which can't hurt, can it?
The Tuk Tuk dangle charm (AUD$59) signifies my first time overseas (a trip to Thailand) which was also a really enjoyable trip with hubby, who was my boyfriend at the time. Baby free, footloose and fancy free!
The beautiful mother and child charm (AUD$39) is so special to me and of course signifies my life now as a mother. I love this one.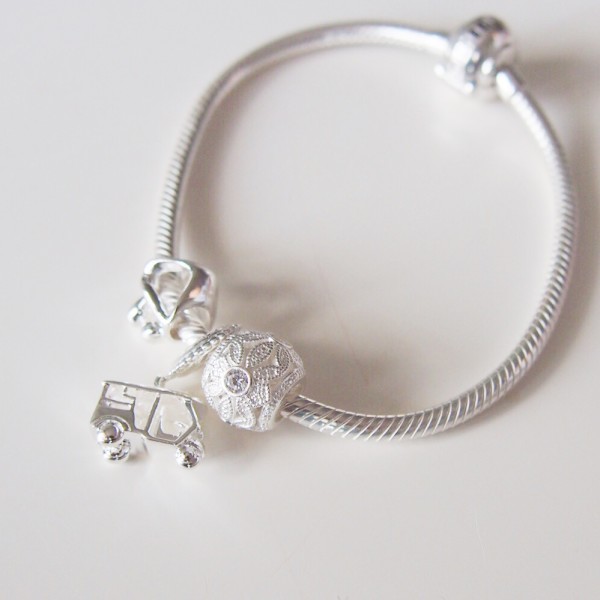 I really loved the whole art deco range, and I chose the cubic zirconia flower art deco charm (AUD$49) as it's really intricate and beautiful. This appealed to me as I've always adored art deco architecture and jewellery.
The white howlite charm (AUD$49) struck me for its modernity but also the fact it represents wisdom for the wearer – not only fashion forward but something that perhaps might make me smarter? I'm in! Check out the whole charm range here.
The beauty of this range is it really is up to you what sort of piece you want to create. I love the necklace as I can add any charm to it and change up the look. Today I've decided to wear the wishbone and the howlite, but any combination would work. (Oh and PS the necklace can also be worn wrapped around the wrist – without the charms – as a statement piece.) I'm wearing the other charms on the bracelet. I can't wait to collect more charms for birthdays and Christmas.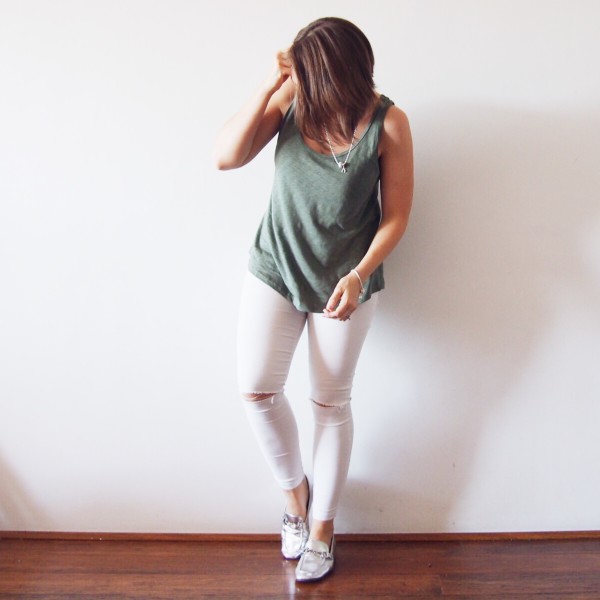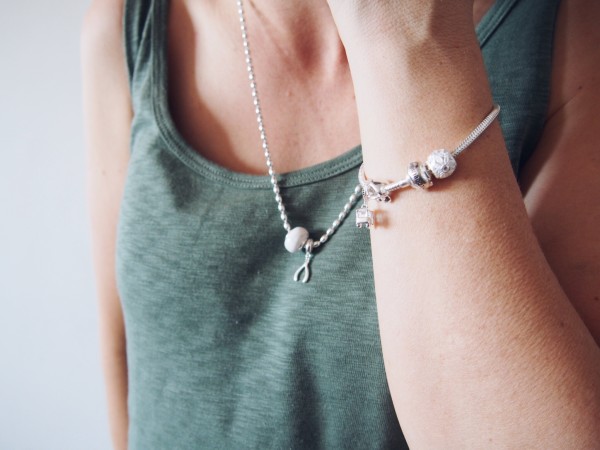 I really love this range, and I'm set on wearing more jewellery daily – and more pieces I love.
Do you wear jewellery daily? Do you have certain pieces that you wear everyday or do you like to change it up? Are you a fine jewellery person or a statement piece gal?
This post was sponsored by Michael Hill, however all words and styling are my own.