This week has been hectic – all because of no sleep. Audrey has been ill, Hannah has been a bit crazy and I've been all like… Whyyyy?!? Also, can you believe it's nearly MAY?! How did that happen?!
Here's a few of my favourite things this week.
1. My birthday.
Thursday was my 31st birthday and because I didn't really *celebrate* (read: drink champagne and dance on the table) my 30th as I was 2.5 months pregnant with Audrey at the time, I was really looking forward to my birthday this year. That was, until everyone got sick, and tired, and busy, and everything else.
I did, however, get to do a few special things. I went and got my nails done at Lush, we went out for lunch and I've enjoyed a drink. Hopefully we'll get to catch up with some friends and family this weekend. And there's something extra special about your children being so excited for your birthday, a 'happy birthday mummy' and helping you to blow out the (many) candles.
2. Folksy embroidery.
One of my favourite looks at the moment is the boho/folk look, and I'm crushing on anything with folk embroidery right now. Check out my Pinterest board here for style inspo. At the moment I'm loving this sweater from Superdry (AUD$84.95). I could imagine this being tucked into a denim skirt and with ankle boots; over the top of a denim shirt dress or tied around the waist of a floaty dress and with thigh high boots. Pick one of the floral colours out with lipstick to match and braid your hair. Amazing!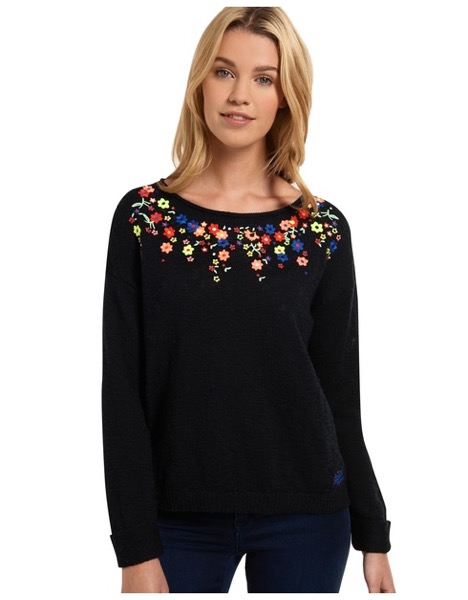 3. Banana Paddle Pops.
I dont care what anyone says, or how bad they are for me, banana paddle pops are the bomb diggity. And thankfully, Hannah and Herman aren't fans (well, they'll eat them but only if there is no chocolate or rainbow), so I get the banana ones to myself. Winning!
4. Cooler mornings
Yes, it's *supposedly* autumn right now, however we all know that's some sort of joke word for 'summer with slightly cooler mornings' here in Brisbane. Whatever you call it, I'm enjoying the cooler mornings. Hannah usually crawls into our bed, I'm snuggled up with Audrey and then we sleep for a little bit longer. It's lovely. (Note: winter can arrive any time now though, please and thank you.)

What have been your favourite things this week?
This post has been sponsored by The Iconic however all words are my own.