It's that time again: spring racing is here! One of the occasions I most frequently get asked for styling help with, the spring racing carnival is also one of the most fun to dress for. Want to wear bright colours? You can. Want to wear florals? You can. Want to wear black and white? You can, and for Derby Day, it's essential! And headwear is so much easier in spring, especially if you're on a budget – a flower garland or a gorgeous jewelled headpiece are all that is required. Today, I've brought together five spring racing outfit ideas, all $100 or under, head to toe! I know, CRAZY! This just shows that dressing for an event such as the races doesn't have to be expensive, and in fact I'm sure there are even more affordable options available in store – check out Kmart for affordable heels or Lovisa for cheap as chips headpieces, for example. Giddy up!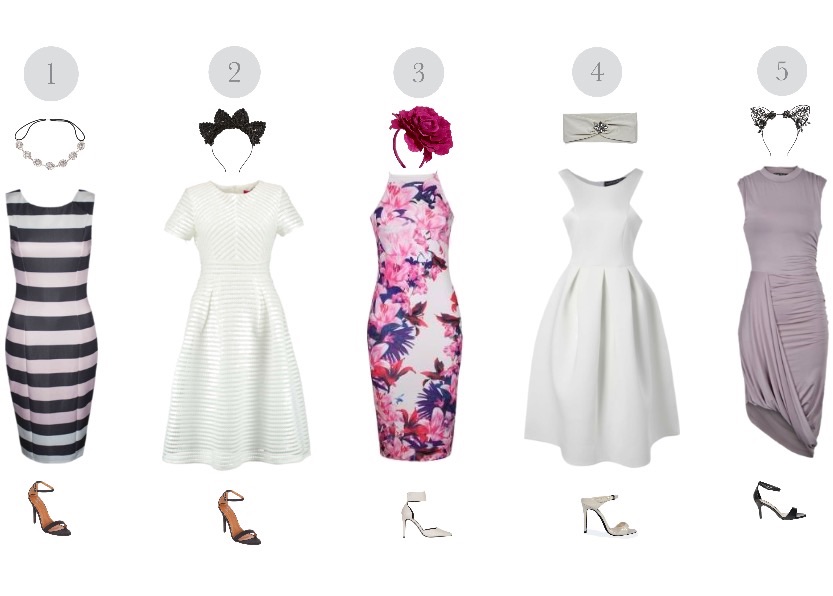 Outfit 1: $98
Little Party Dress dress AUD$65
Colette headpiece AUD$3.73
Spurr heels AUD$30
Outfit 2: $100
Boohoo dress AUD$50
Target headband AUD$20
Spurr heels AUD$30
Outfit 3: $95
Ally dress AUD$40
Target floral headpiece AUD$20
Spurr heels AUD$35
Outfit 4: $89
Boohoo dress AUD$40
ASOS turban headband AUD$21
Boohoo mules AUD$28
Outfit 5: $95
Ally dress AUD$40
Target headband AUD$20
Target heels AUD$35
Do you love the spring racing season? What's your favourite event if so? Or do you avoid it entirely?