I've just arrived home from the three-day Problogger Conference (Traing Event – #PBEVENT) on the Gold Coast. I must say I'm exhausted from the sheer amount of things learnt, yet totally energised with ideas! I met so many of my fave bloggers and made so many connections. The blogging world really is an amazing one. If you have a blog or would love to start one, I can highly recommend attending a conference. Everyone is so supportive and welcoming, and you'll have so many ideas and notebooks full of actionable inspiration. I'm already looking forward to next year's event.
The event itself was exceptionally well-run, and the speakers were top-shelf. I'll put together some my notes soon and bring you some of the tips I learnt, once it all sinks in and I digest all of this new information! The venue was also great – the RACV Royal Pines resort is a lot swankier than I expected and although I didn't stay on site, the staff were fantastic at the conference and the food and drinks on offer were fabulous. There was also a great array of healthy food – in fact I think it was the healthiest conference food I've ever eaten!
Husby, Hannah and I booked a little apartment at Broadbeach via AirBnb and it was perfect for the weekend. I went off to the conference each day and my husband got to spend quality time with Hannah, of which he usually misses out on due to work. The first day they went to Currumbin Wildlife Sanctuary, the second day they went to the beach, played at the playground and the apartment building's pool got a workout. So all in all a great weekend for all of us.
So what did I wear to a conference full of bloggers? I must admit it was a tough task picking outfits as I wanted comfort (for sitting down and standing and chatting) however still wanted to look stylish and put-together. I decided to wear flats during the day and heels for the night time functions (although my obstetrician has advised me not to wear heels anymore…at all…that will start Monday…).
The first day was a newbies function and I wore an ASOS maternity top and jeans, with Best and Less peep toe boots I picked up for under $10.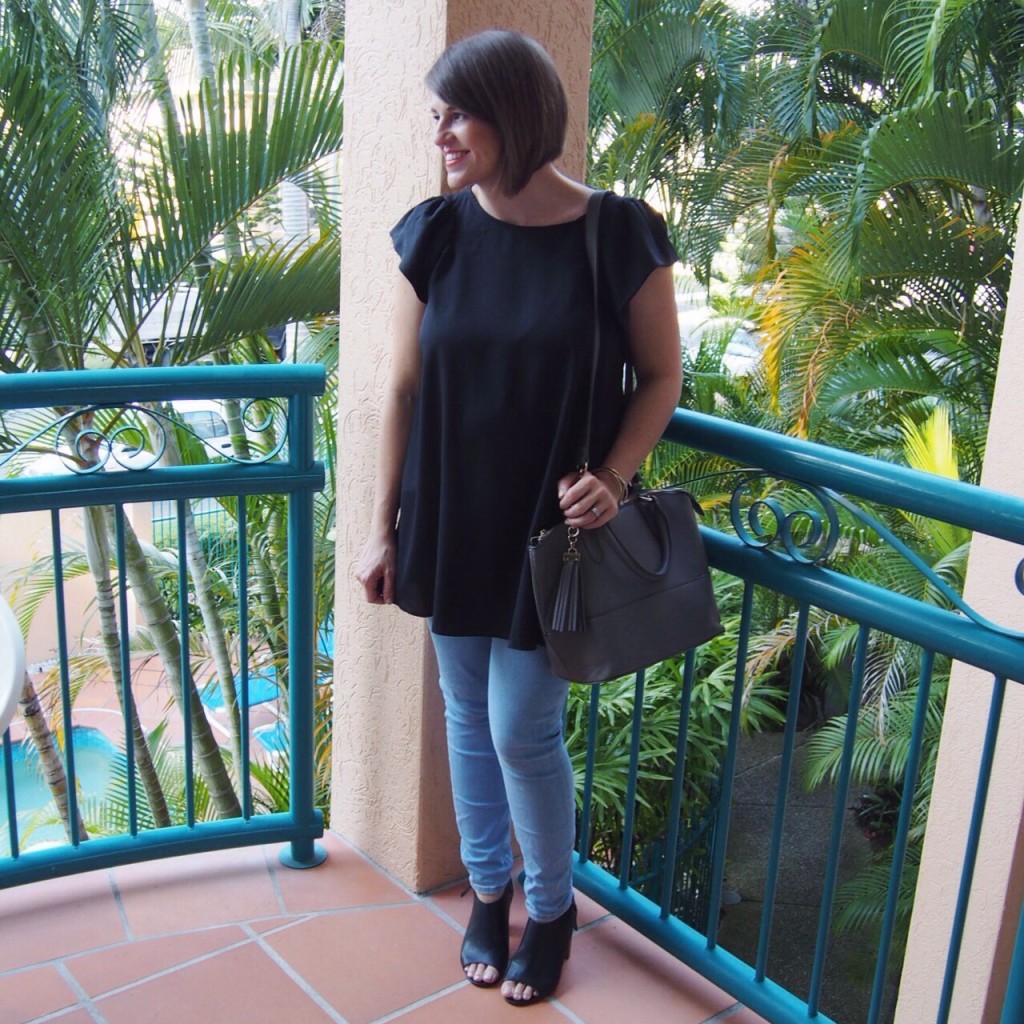 Shop the outfit:
ASOS maternity top, two years' old, I couldn't find a similar style however I like this top for AUD$37
ASOS maternity jeans AUD$29 (on sale)
Best and Less boots, similar here for AUD$69.95
The second day I wore a dress I picked up at Temt for $20, with my new lace up flats, also from Temt. I was super comfy and I threw a scarf in my bag in case I got cold, however I didn't. I was so glad I wore flats as the venue was quite large and I did a surprising amount of walking around in the breaks, and standing and chatting. So, if you're off to a conference, flats are the go!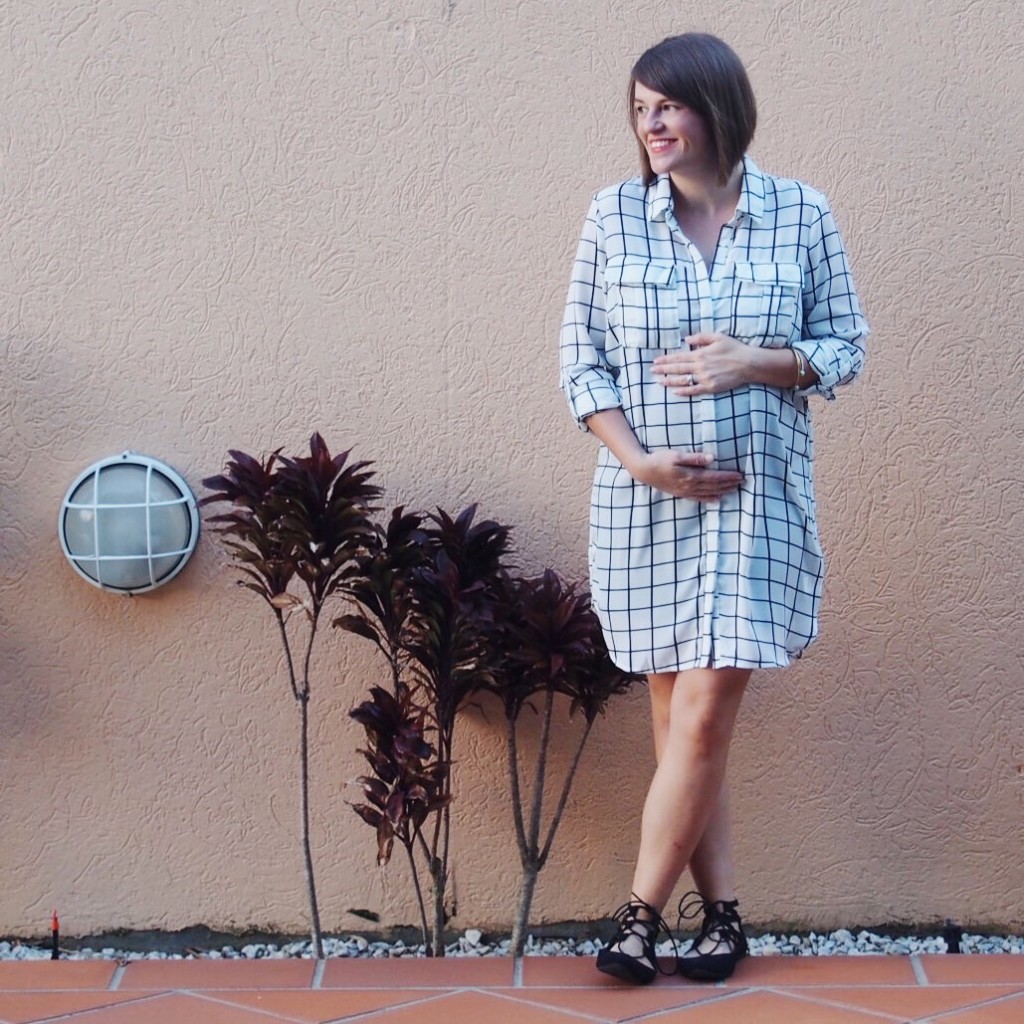 Shop the outfit:
Temt dress, similar here for AUD$59
Temt flats, similar here for AUD$59.95
That night was the themed event, 'shine' – I wore an old Temt dress and a Dotti sequin jacket I bought on sale and have had for years. It was a relatively warm and comfortable outfit for a lovely night on the pool deck drinking (mineral water for me!) and eating.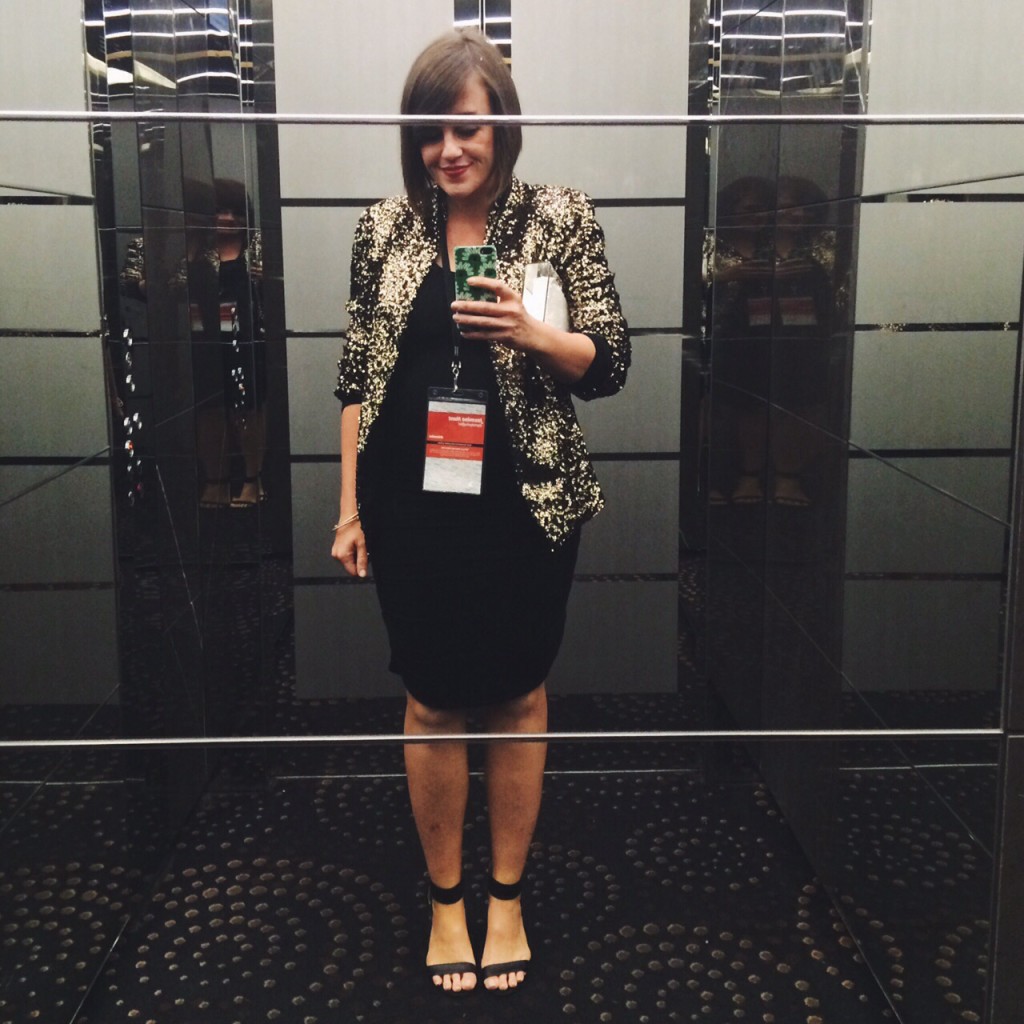 Shop the outfit:
Temt dress, similar here for AUD$45 (ASOS Curve) or AUD$16
Dotti blazer, similar here for AUD$46
Heels from DFO Jindalee, similar here for AUD$59.95
The third day I decided to go casual and comfortable, and wore jeans, a top, scarf and the lace up flats again.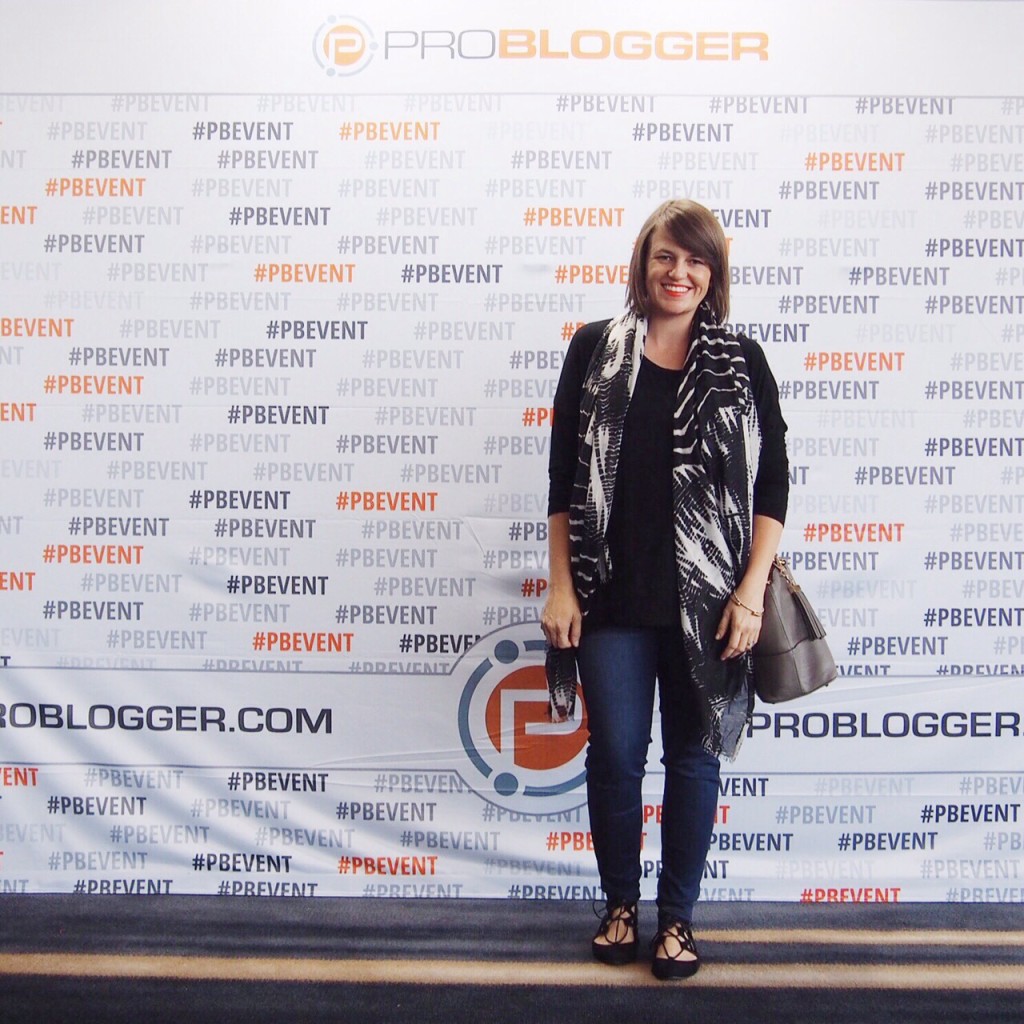 Shop the outfit:
(Gifted) Bump, Baby and Beyond jeggings AUD$89.95
(Gifted) Frankie and Co top AUD$39
Temt flats, similar here for $59.95
(Gifted) Forever 21 scarf, sold out.
Today we left for home and I was happy I threw this St Frock Marseille dress into the suitcase – super comfy for the car ride home. We had an awesome morning – enjoyed a lazy breakfast out and then wandered through the arts and craft markets (on the first and third Sunday of the month).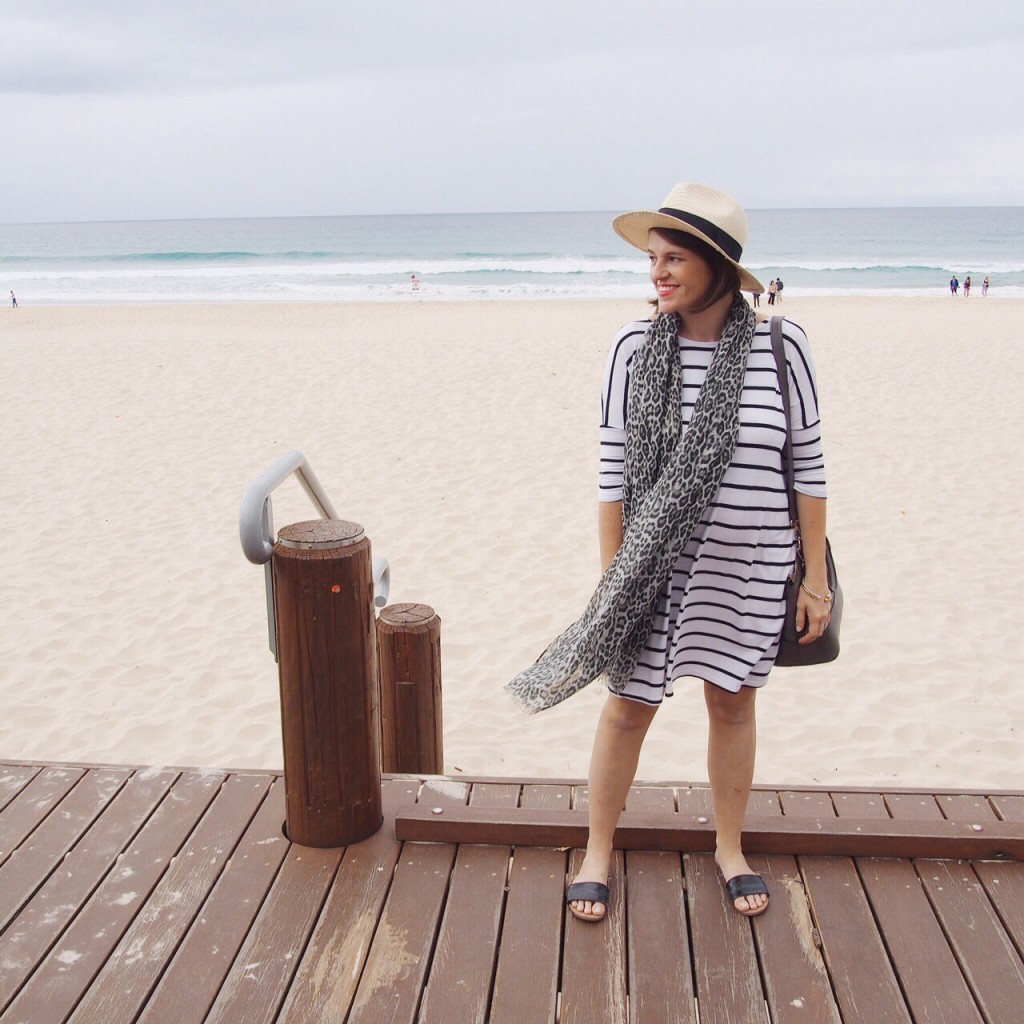 Shop the outfit:
(Gifted) St Frock Marseille dress AUD$59.90
Sportsgirl scarf, sold out online, however check in store.
Forever 21 Hat, similar here for AUD$20 (men's' size, however very similar style)
Target slides, last season.
Louenhide Delmar bag, sold out.
(Oh, if you're interested in the apartment we stayed at, I'd be happy to pass on those details to you. Just let me know!)
How was your weekend? What did you get up to? Did you go to the PB Event or have you been in previous years? What did you wear?