I asked via the Pretty Chuffed Facebook page a few days ago for some more ideas for my 'outfits under $100' series, and one of the ideas was for girls night or hen's night outfits. So today, I've put together a few styling ideas for such an occasion, where there might be dinner, drinks and or dancing or as I like to say, 'going out-out'. Now, usually a girls night can involve much talking and carrying on and if it's a hen's night, especially, you want to be comfortable as there can be some sort of entertainment or activity involved. I usually like to keep it simple and girly, yet nodding towards the latest trends. The easiest ideas involve a cute dress, heels or boots and an overcoat or jacket in winter. I've also put together a girls-night ready look with jeans and also a super cute skirt and top idea. I hope these outfit ideas give you some inspiration for your next night out, and all outfits are under $100 total (the coats and clutch are extra – winter is difficult!).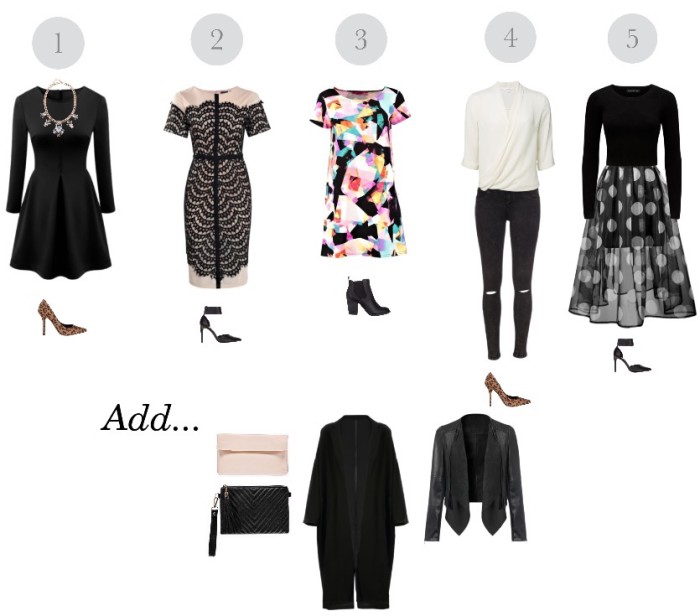 Outfit 1: AUD$57.51
Romwe black dress (size L left) AUD$19.80
Spurr heels AUD$25 (on sale)
Colette necklace AUD$12.71 (on sale)
Outfit 2: AUD$85
Boohoo dress (size 8-14) AUD$60
Spurr heels AUD$25 (on sale)
Outfit 3: AUD$80
Boohoo dress (sizes 8-16) AUD$30
Outfit 4: AUD$94.95
Target crossover top (size 6 and 8 left online) AUD$30
Factorie jeans (sizes 6-14) AUD$39.95
Outfit 5: AUD$97.95
Forever New crop sweater (size M and L left) AUD$50
Choies skirt (sizes S, M, L) AUD$22.95
Spurr heels AUD$25 (on sale)
Extras:
Yoins long coat (sizes S, M, L) AUD$39.60
SheInside PU leather jacket (sizes S, M, L) AUD$42.90 
When was your last girls' night out? What did you wear? Have you been to a hen's night recently? What did you get up to?