The worst flight I ever had was London to Abu Dhabi to Singapore then Brisbane. The plane was jam packed, the flight attendants seemed to all be stressed to the max, there were many fed-up babies and it was 24 hours of hell. It didn't help, of course, that we had finished up a really great holiday in France and the UK by celebrating a little too hard the night before! It was also not helped by the fact that I didn't dress properly for the occasion. I had decided to wear enclosed sandals and tight jeans, and boy I nearly ripped my clothes off mid flight! I learnt the hard way what NOT to wear. Which brings me to my recommendation of what to wear on a long haul flight, and these outfits are all under $100.
Of course, if you're a person that can sleep on planes, or just want to be REALLY comfortable, pack some pyjamas in your carry on and get changed mid-flight. Just remember to bring some socks and slides or slippers though, barefoot is not on (those toilets, yuck!) I don't tend to get changed on board, however I do dress for comfort. I rarely wear jeans, however if you have a super comfortable pair, like some stretchy fabric denim or boyfriend jeans, or jeggings, and you'll feel super comfortable in them, go ahead and wear them. I usually wear a dress and a scarf and slip on shoes, and pack leggings and socks in my bag, along with a cardigan. I always get super cold on board however it's usually hot when I arrive somewhere so I like to be comfortable. So, here's three ideas all under $100 of what to wear on a long haul flight.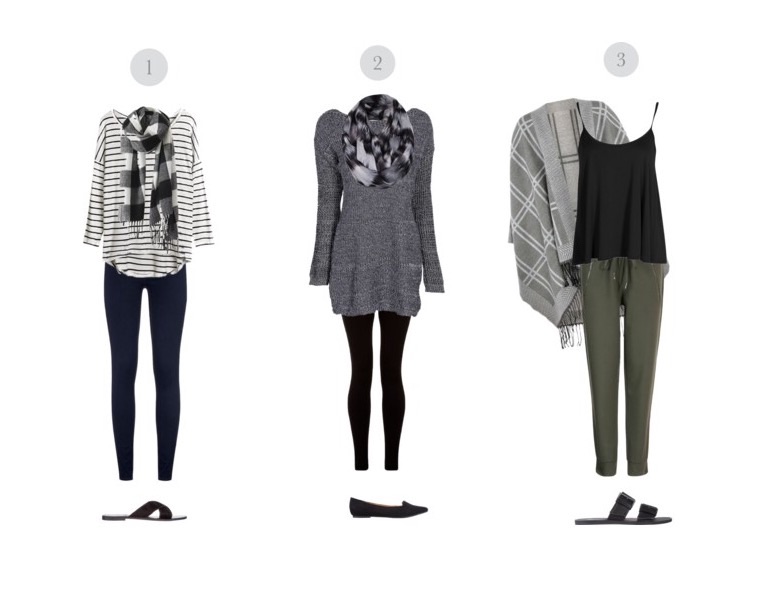 Outfit 1: AUD$94
New Look navy jeggings approx AUD$29
Spurr slides, sold out, similar here AUD$16
Outfit 2: AUD$83.95
New Look leggings approx AUD$24
Spurr flats, sold out similar here AUD$19.95
Outfit 3: AUD$100
What do you wear on a long flight? What was your worst ever long flight experience?