Know a new mama? Have a newborn to buy for this year? (Firstly, awwww :)) Well today you're in luck as I've collated a few Christmas gift ideas I think might be perfect for the occasion.
Related posts: Gift ideas for your mum, gran, bestie or sister and Gift ideas for your man, dad, brother or grandpa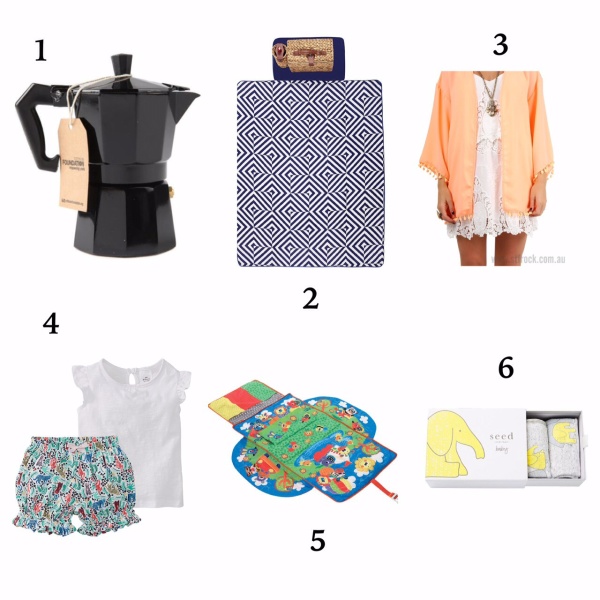 1: Cotton On coffee percolator AUD$19.95
New mums will appreciate this for two reasons – 1 – caffeine, and 2 – it's perfect for guests who just seem to drop round when you've got a newborn. Pop this on and you've got the smell of fresh coffee permeating through the house. Wrap it with some fresh coffee and a lovely mug.
2: Sunnylife picnic mat AUD$59.95
With a baby, you spend a lot of time in the park. So gift the new parents with a stylish and practical mat they can sit on and the baby can play on, all while getting some sun and some fresh air.
Capes and kimonos are right on trend and are super practical for a new mum. This is a gorgeous apricot colour, perfect for pairing with summer denims and a white tshirt.
4: Target baby girls shorts and top set AUD$15
So. Cute. A cute little set like this is a super gorgeous gift. You can never have too many spare clothes and a matching set is always appreciated. And a great price! For an equally cute boys set, click here.
5: Playgro trolley cover/playmat/changemat/high chair cover AUD$25
Wholly smokes what a useful thingamabob! This can cover a trolley, be used as a playmat, cover a high chair or be used as a changemat when out and about. A must have!
6: Seed bib, onesie and beanie set AUD$59.99
If the baby is very, very new, this is a perfect little gift set. And unisex too, so perfect for gender-surprise babies due around Christmas.