Next in my Christmas gift ideas series, I've sourced six awesome gift ideas for the man in your life – your partner, husband, dad, brother or grandfather.
Read my six Christmas gift ideas under $60 for your mum, gran, sister or bestie here
Notoriously difficult to buy for, I've found some pressies that most men I know would love. I've featured three pressies from the amazing website Navy Crockett – and best of all the lovely folks at Navy Crockett will give each Pretty Chuffed reader 15% off – just use the promo code MERRYCHUFFED at checkout to claim! (Valid on all products, not just those I've featured – valid until 23 December 2014.)
So here goes, six Christmas gift ideas for your man, dad, brother or grandpa!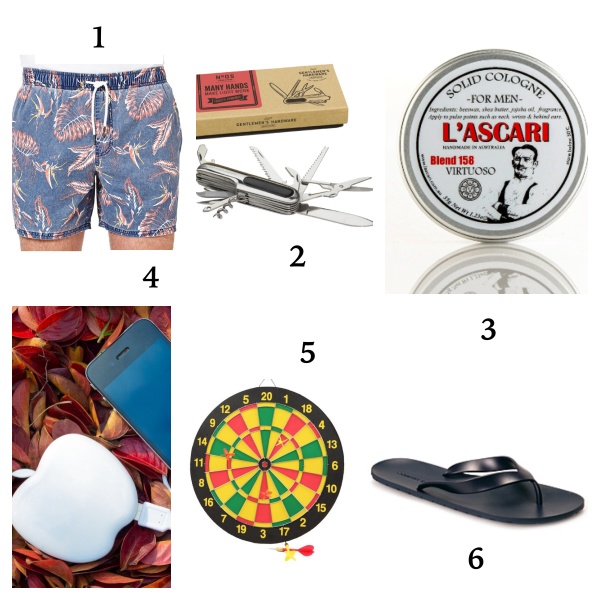 Fashionable yet not 'out there', these won't be out of place in your brother's wardrobe.
2: Navy Crockett Gentleman's Hardware pen knife AUD$29.95
I don't know any man who wouldn't appreciate having one of these babies. So useful and a classic men's gift.
3: Navy Crockett L'Ascari solid men's cologne AUD$24.95
This sounds like it would smell ridiculously good – "amazingly fresh oriental spicy blend of nutmeg, lemon, star anise with middle notes of geranium, cinnamon, musk and tonka bean" – yep, awesome. And a solid form that will be easy to chuck in the gym bag or the console of the car. Because it's a bit retro-looking, it will be perfect for grandpa too.
4: Navy Crockett Eves Power Bank portable charger AUD$54.95
Perfect for the man who is always on the go, is always on the phone or the little brother who's constantly glued to the iPad.
One of my most favourite Christmases was when my dad received a dart board for Christmas, and we all played darts until late into the night, with lots of merry making and laughs to be had. This is a great price for a classic gift.
6: Country Road men's thongs AUD$39.95
The essential summer shoe for men. These are still rubber but a bit classier looking.