I'm always looking for inspiration to come up with outfits, moodboards and ideas for posts, so when a lovely follower asked for some inspiration for attending a black tie function on a budget, I jumped at the chance to find some gorgeous things. When a function's dress code is black tie, to me that means a floor length dress for women and a suit or tuxedo with a black tie (usually a bow) for men. This therefore causes a slight issue. Finding a 'formal enough' looking gown on a budget (and for this blog, under $100) is a difficult task.
In my opinion, you have three options.
1. Borrow a dress or outfit from a similarly-sized friend. Most ladies have one or two long dresses hanging in their wardrobes – be it old ball gowns, wedding attire or even bridesmaid dresses. With a few updated accessories, you can make an old dress look like new.
2. Hire a dress from an online hire store. This is a good option if you want to wear a fancy, expensive dress on a budget. There's quite a few companies offering this service, I've recently spotted Runway Dream through A Broke Girls Blog – I've had a sticky and I really like this dress for a formal occasion. $99 to hire – here. I'm yet to try this myself, however it's a great idea and I like the idea of wearing something ridiculously expensive for a day!
3. Buy an outfit from the high street. And that's where I come in! I've found a few dresses online that I think fit the black tie dress code. Add a few accessories and some heels and you're done. One of my best investments (well, it was only $99) was a strapless black ball gown with a sweetheart neckline. I've worn it to a number of balls and functions with just a simple change of accessories. And if you're worried about exposing so much skin on top, try a spray tan. It will even out your skin tone and make you feel all summery. My favourite spray tanning salon is Lush Tan (Brisbane). My favourite black tie idea is a plain coloured dress with some sparkly accessories and hair curled and loosely pinned up. Grab a box clutch and you're done!
Here's some black tie dress on a budget ideas from the high street for you, all under $100. Just mix and match to create your perfect black tie outfit.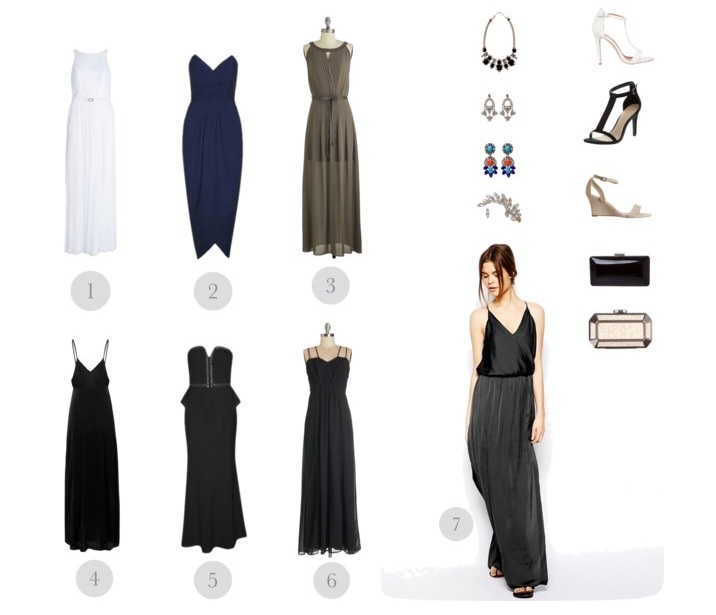 Dresses:
1. River Island white dress AUD$37 (on sale)
2. Little Party Dress navy strapless dress AUD$74.95
3. Modcloth khaki dress AUD$52 (on sale)
5. Little Party Dress black strapless dress AUD$75 (on sale)
6. Modcloth black dress AUD$49 (on sale)
7. ASOS black maxi dress AUD$28 (on sale)
Accessories: